Video of Afghan TV Host Reassuring Viewers While Flanked by Armed Taliban Viewed 1.2M Times
A video of an Afghan TV host giving an address has gone viral online due to some alarming juxtaposition.
In the video, the host reads a statement from the Taliban assuring citizens that they should not be afraid of the new government. During the reading, the host is flanked by armed Taliban members, at least eight of which are visible in the shot.
The video was initially shared on Sunday by journalists and activists, including the BBC's Kian Sharifi.
"With armed Taliban fighters standing behind him, the presenter of Afghan TV's Peace Studio political debate programme says the Islamic Emirate (Taliban's preferred name) wants the public to "cooperate with it and should not be afraid," Sharifi said in his initial tweet.
"This is surreal," Masih Alinejad, an Iranian journalist and activist, said in a tweet. "Taliban militants are posing behind this visibly petrified TV host with guns and making him to say that people of #Afghanistan shouldn't be scared of the Islamic Emirate. Taliban itself is synonymous with fear in the minds of millions. This is just another proof."
Sharifi also shared a longer version of the clip in which the host begins to interview a presumed-to-be high-ranking Taliban member.
As of Monday afternoon, Sharifi's tweet had 1.2 million views, while Alinejad's had nearly 500,000.
Recently, German public broadcaster Deutsche Welle confirmed that a relative of one of its editors had been killed by the Taliban. The fighters had reportedly been trying to hunt down the journalist themselves, according to the Hindustan Times, signaling a hostile environment for the press in Afghanistan.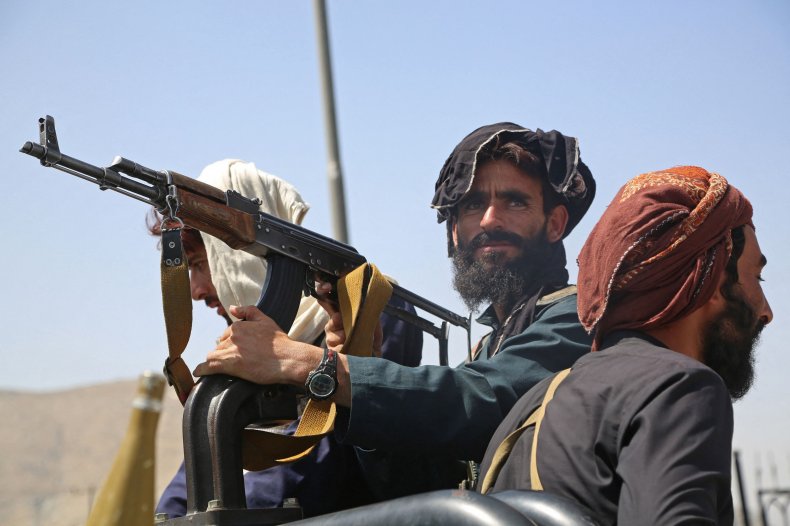 "The killing of a close relative of one of our editors by the Taliban yesterday is inconceivably tragic and testifies to the acute danger in which all our employees and their families in Afghanistan find themselves," Peter Limbourg, director general at Deutsche Welle, said in a statement.
"It is evident that the Taliban are already carrying out organized searches for journalists, both in Kabul and in the provinces. We are running out of time."
Earlier this month, an anonymous journalist in Afghanistan described the grim situation the country was left in and the feeling that they were "betrayed" by the U.S.
"It's the worst night of my life for me and thousands of others," the person wrote. "We could never have imagined and believed that this would happen. We could never imagine we could be betrayed so badly by the U.S... If they abandon us, probably thousands of people would be killed. And you know no longer would the U.S. have the moral authority to go places to say, 'We believe in human rights. We fight for human rights and democracy.'"