Video: Alabama Linebacker Mekhi Brown Attacks Coach During Alabama-Georgia National Championship Game
The national championship game provided a grand stage for a breakout performance from Alabama freshman quarterback Tua Tagovailova.
Not every Tide player was basking in joy postgame. For linebacker Mekhi Brown, the dramatic overtime victory over Georgia at Mercedes-Benz Stadium came with a bitter aftertaste. Brown, the outside linebacker from Columbus, Georgia, received an unsportsmanlike conduct penalty that cost Alabama 15 yards in the third quarter of Monday night's game. The Tide had just kicked off, having cut the Bulldogs' lead to 10 points when Brown got into an altercation with a Georgia player.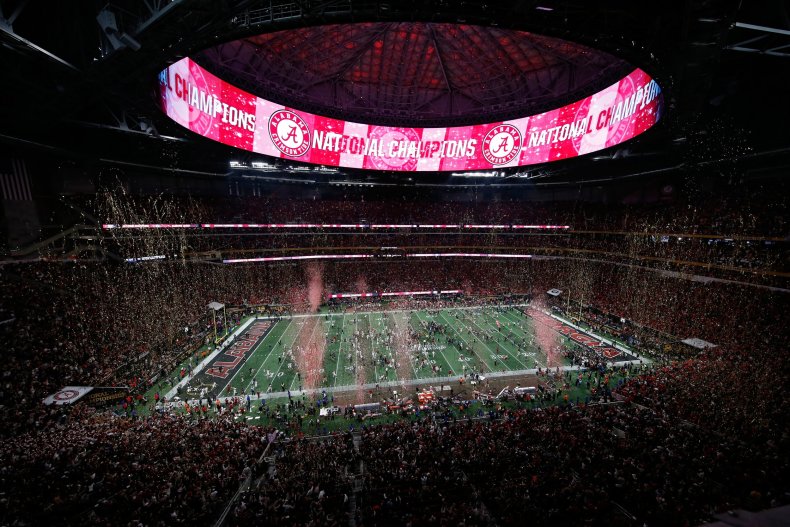 Alabama head coach Nick Saban shouted briefly at Brown before the player launched into a tirade at a member of the Tide staff. Yahoo Sports reported the object of Brown's ire was director of player personnel Kerry Stevenson.
"I really felt like a jerk," Brown told Yahoo Sports after the game. "That's not how I am. I wanted to win, that's what it was. I did something stupid. I could have cost us the game."
Brown was perhaps lucky to avoid ejection, both for the punch and the sideline histrionics. Surprisingly, too, Saban left him in the game. Yahoo reported that he "cried for five straight minutes" after the Tide had completed the dramatic turnaround with Tagovailova's walkoff touchdown pass in overtime to DeVonta Smith.
In the explosion of joy that followed Alabama's fifth national championship under Saban, Brown's outburst was mostly forgotten. There was the extraordinary performance of Tagovailova to revel in, among other, more positive things. The true freshman threw three touchdown passes after replacing Jalen Hurts at halftime.
Posterity will likely look less kindly on Brown, despite his evident contrition and the tackle on Sony Michel in the fourth quarter that showed a good deal of mental strength. It didn't matter, in the end, that Brown saw the red mist. On another day, he might have cost the Tide the greatest prize in college football.