Video: Alexandria Ocasio-Cortez Plays Scathing 'Corruption Game': 'It's Already Super Legal for Me to Be a Bad Guy, So It's Even Easier for the President'
Representative Alexandria Ocasio-Cortez took a creative approach to highlighting the need for campaign finance reform on Wednesday, using her new seat on the House Oversight Committee to engage a panel of ethics experts in a "Corruption Game."
"Let's play a lightning round game," Ocasio-Cortez began. "I'm gonna be the bad guy and I want to get away with as much bad things as possible, ideally to enrich myself and advance my interests, even if that means putting my interests ahead of the American people."
"So," the 29-year-old asked the panel, "if I want to run a campaign that is entirely funded by corporate political action committees [PACs], is there anything that legally prevents me from doing that?"
"No," one expert, Karen Hobert Flynn, the president of the government accountability watchdog group Common Cause, said decisively.
"So, let's say I have some skeletons in my closet and I need to cover it up so that I can get elected," Ocasio-Cortez continued. The New York representative did not hide the fact that she had some very specific "skeletons" in mind, immediately turning to an article written by one of the panelists on hush money payments made shortly before the 2016 election to women who alleged they had sexual affairs with President Donald Trump.
The graphic below, provided by Statista, illustrates outside spending and super PAC spending in the federal elections since 1990.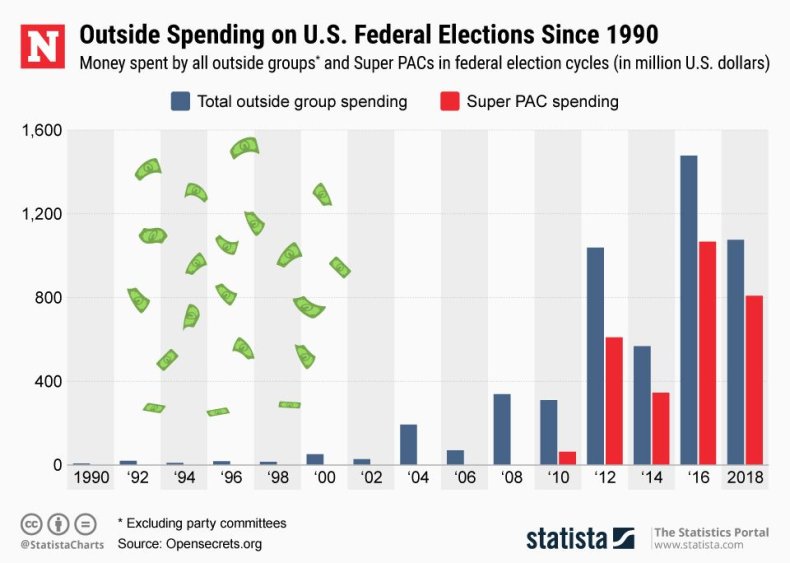 Addressing panel member Bradley Smith, a former chairman of the Federal Election Commission, Ocasio-Cortez asked: "Is it true that you wrote this article, this opinion piece for The Washington Post titled, 'These payments to women were unseemly. That doesn't mean they were illegal.'"
After Smith acknowledged that he did write a story with that headline, Ocasio-Cortez summed up: "So, greenlight for hush money, I can do all sorts of terrible things. It's totally legal right now for me to pay people off.
"So, I use my special interest dark money-funded campaign to pay off votes that I need to pay off and get elected," she continued. "So, now I'm elected, now I'm in, I've got the power to draft lobby and shape the laws that govern the United States of America."
"Are there any limits on the laws that I can write or influence?" Ocasio-Cortez asked the expert panel.
"There's no limit," Hobert Flynn acknowledged.
"So there's none. So, I can be totally funded by oil and gas, I can be totally funded by Big Pharma, come in, write Big Pharma laws and there's no limits to that whatsoever."
"That's right," the ethics expert said.
Ocasio-Cortez's "Corruption Game" did not end there, however.
"The last thing I want to do is get rich with as little work possible. That's really what I'm trying to do as the bad guy, right?" she continued. "So, is there anything preventing me from holding stocks, say, in an oil or gas company and then writing laws to deregulate that industry and cause, you know that could potentially cause, the stock value to soar and accrue a lot of money in that time."
"You could do that," a visibly bemused Rudy Mehrbani, who serves as senior counsel at the Brennan Center for Justice at the New York University School of Law, replied.
"So, I could do that? I could do that now with the way our current laws are set up?" Ocasio-Cortez asked, seeking clarification. "Yes," Mehrbani said.
"OK, great," she said. "Is it possible that any elements of this story apply to our current government and our current public servants right now?"
"Yes," at least two panelists confirmed.
"So," Ocasio-Cortez summarized, "we have a system that is fundamentally broken. We have these influences existing in this body, which means that these influences are here, in this committee, shaping the questions that are being asked of you all right now. Would you say that that's correct?"
Yes," Walter Michael Shaub Jr., an American attorney specializing in government ethics who previously served as the director of the U.S. Office of Government Ethics, responded.
Asked whether the same rules that applied to members of Congress were the same as those that apply to the president, Shaub said: "In terms of laws that apply to the president, yeah, there's almost no laws at all that apply to the president."
"So, I'm being held, and every person in this body is being held, to a higher ethical standard than the president of the United States," Ocasio-Cortez said.
"That's right," Shaub confirmed once again. "Because there are some committee, ethics committee rules that apply to you."
"And it's already super legal, as we've seen, for me to be a pretty bad guy. So, it's even easier for the president of the United States to be one, I would assume," Ocasio-Cortez said.
"That's right," Shaub said.
While no official winner was announced, Ocasio-Cortez's appeared to come away victorious, demonstrating how corrupt lawmakers, and even, potentially, the president of the United States, could easily avoid accountability under current government ethics laws.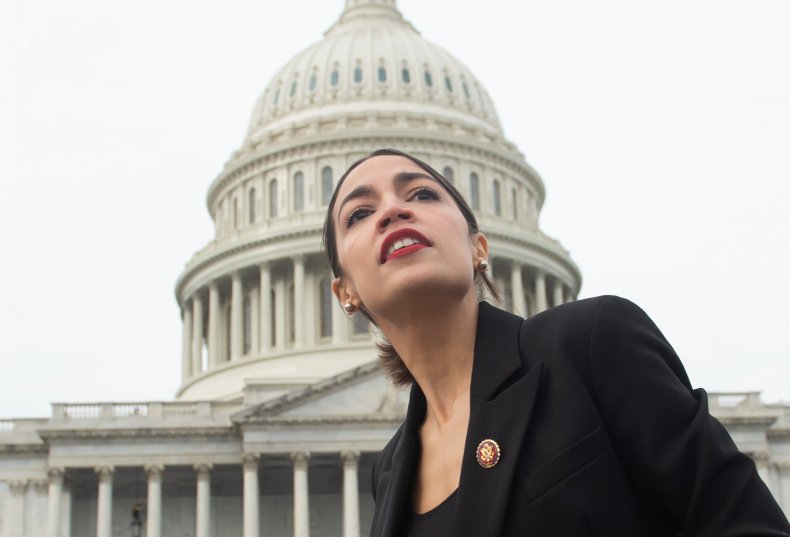 This article was updated to include an infographic.