Video: Angry Woman Confronts Black Arizona Man, Calls Him N-word—'Tupac Is Dead, I Killed Him'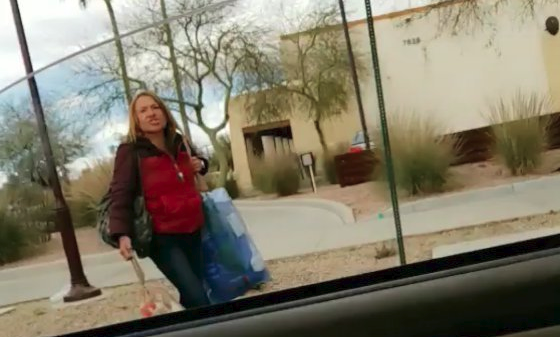 A video uploaded by a black man in Arizona shows the moment a white woman accosted him in the road, verbally attacking him using racial epithets and bizarrely claiming she murdered the rapper Tupac Shakur.
The footage, captured by John Andrew Taylor, shows the absurd exchange filmed from the Scottsdale local's car after he questioned the woman who first called him man the N-word for no obvious reason. "F*** you, you n*****," she said.
The Phoenix New Times reported that Taylor was verbally assaulted by the woman, who has not been identified,after giving his sister a ride in his car. Taylor explained after the initial onslaught he asked the woman to repeat herself. Then he started filming.
"You heard me, you motherf*****," the woman says. "Absolutely," Taylor can be heard saying in response off camera.
Warning: Some readers may find this video offensive.
"Go for it you n***** piece of s****," the woman then adds, as Taylor seems to be driving away from here round a corner.
"Wow," Taylor emits in response, apparently bemused by the situation. "Hey, you have yourself a blessed day," he adds.
"You should be in Oakland n*****," the woman continues shouting from between some grass shrubs. Taylor continues to wish her a blessed day.
"F***ing, n***** piece of s***," the woman says, apparently now aware that she is being filmed.
"Oooh matter of fact, I am taking the time for this one," Taylor says as he rounds the corner and meets the woman once again in his car.
"What was that, you said I am a what?" he asks.
"Tupac is dead. I killed him. I put a bullet through the f******'s head," she says. After further questioning she responds "I sure did. He is a dead f***ing n*****. He is an ugly f***ing homosexual rapist f***ing n****, just like you, f*****."
Stunned but laughing, Taylor then turns the camera around and says "And that's how you make someone famous."
Taylor rold the Phoenix New Times that he regularly experiences racism, coming into contact with it every day. However, he said he had never been caught up in an incident so explicitly racist as the episode captured in the video.
"I was shocked," Taylor said. "I have never in my life had someone had the gumption and the audacity to come out and say something like this. Not directly to my face, at least."