Video Appears to Show Police Horses Trampling Canadian Trucker Protesters
Police officers on horseback allegedly plowed through a crowd of Canadian protesters known as the "Freedom Convoy" as they continued to protest the government's COVID-19 restrictions and vaccine mandates in Ottawa.
A video posted to Twitter appeared to show Ottawa Police officers making their way through a crowd and trampling over two people with their horses. As the horses step on the individuals, the crowd quickly surrounds them to help.
The videographer can be heard saying, "they just trampled that lady. They just fully trampled that lady."
Officers on foot in protective gear and carrying batons then appear to push the crowd back in the video. Members of the crowd begin to push against the officers as they order demonstrators to leave the area immediately, threatening arrest.
"The protesters continued their assaultive behaviour with the police line, to prevent an escalation or further injury, mounted officers were sent in to create critical space between the police line and protesters," the Ottawa Police wrote on Twitter.
Authorities claimed that a bicycle was thrown at the feet of one of the horses in an attempt to injure it. One person was arrested for allegedly intentionally harming a police service animal.
Newsweek reached out to the Ottawa Police Department for a comment on the situation. A spokesperson said no protesters were "trampled."
"We are not aware of any protesters being trampled by horses," the spokesperson told Newsweek. "We understand that one protestor fell, got up and walked away."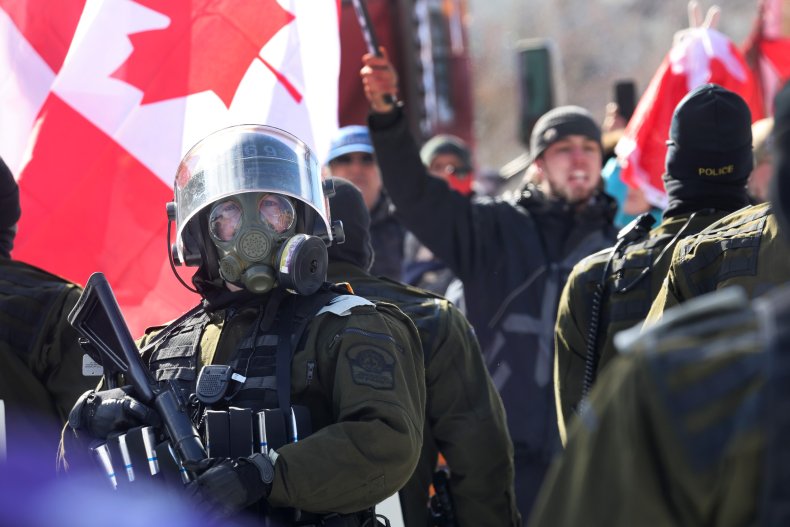 By Friday evening, more than 100 protesters had been arrested, and over two dozen vehicles had been towed, authorities said.
Officers continued to push protesters away from the downtown area and said they created a "secured area" where unlawful protest is temporarily prohibited.
Canadian Prime Minister Justin Trudeau took to Twitter following the incident and said that protesters and their illegal blockades have disrupted the community for three weeks now. He said he intends to bring public order and protect Canadian citizens.
"We'll continue to make sure municipal, provincial, and federal authorities have the resources they need, and do whatever is needed to keep people safe and get the situation under control – and we'll make sure your rights and freedoms are protected," Trudeau said. That remains our top priority."
The confrontation between police and protesters comes four days after Trudeau took the unprecedented step of invoking the Emergencies Act to stop the truck blockades.
The Freedom Convoy originally began as a protest against the country's vaccine mandate, instated in January, that required all Canadian truckers who cross the U.S.-Canadian border to be fully vaccinated against the virus or face possible quarantine or testing.