Video Appears to Show Police Pull Protesters From Cars, 9 Arrested
Videos on social media appear to show Washington State Patrol (WSP) officers pull protesters from vehicles and arresting them for blocking traffic on Interstate 5 in Seattle.
A video posted to Twitter on Friday afternoon shows officers reaching into a car and forcibly pulling out the driver as the car's occupants and other protesters raise their objections.
Trooper Rick Johnson, WSP's public information officer, tweeted that "troopers have arrested 9 drivers for blocking the freeway and are in the process of impounding 9 cars." All lanes were reopened to traffic a short time later, according to KING-TV.
Johnson told Newsweek in a statement that the cars blocking southbound I-5 traffic had been a distraction for northbound drivers and may have been a factor in a "three car injury collision."
"The arrests made were for disorderly conduct which specifically addresses blocking the freeway," Johnson said while referring to a state law that prohibits intentional obstruction of "vehicular or pedestrian traffic without lawful authority."
"I have seen the videos and as you can see one of the drivers resisted arrest," added Johnson. "The Washington State Patrol uses the least force necessary to make an arrest and always review any incident where we use force."
One protester wearing a shirt that says "Black Lives Matter" and "Defund the SPD [Seattle Police Department]" is seen to engage in a heated argument with the officers in both videos, at one point saying "I have the right to make a protest."
"No, you don't," replies one of the officers before being read a passage from the Seattle Municipal Code.
"This isn't Seattle," the officer says as the pair continue to argue. "You'll learn. This is the freeway, different rules, different regulations."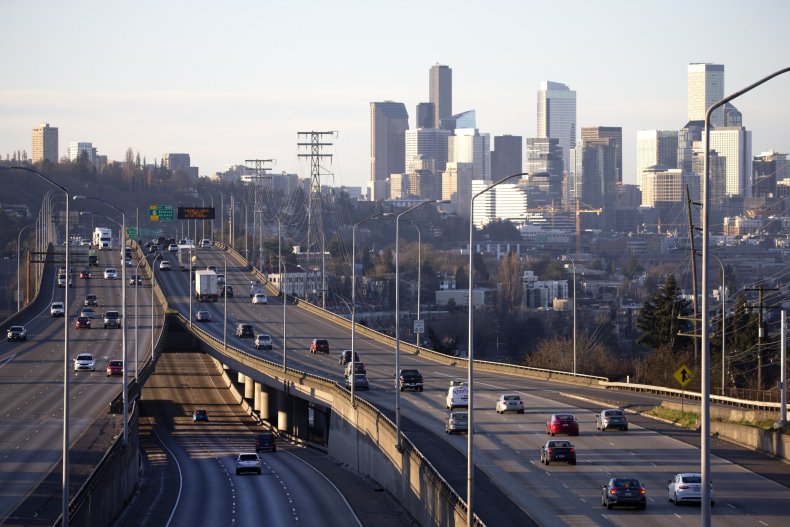 Another person identifying themselves as a journalist asks the officer why people are being arrested, with the officer refusing to answer.
A second video shows another person apparently being arrested and handcuffed as protesters continue to argue with officers over whether they have a right to protest. The officers indicate the protesters are being arrested for "obstruction."
In July, two protesters were struck by a fast-moving vehicle while demonstrating on I-5 in an area nearby, which was thought to have been blocked to traffic for the demonstration. Summer Taylor, 24, was killed, while the other victim was left seriously injured.
Only hours before the incident, WSP announced that they would no longer allow protests to take place on the interstate, while threatening to arrest any defiant pedestrians.
Demonstrations against police brutality and racial injustice have been ongoing in Seattle and across the country, sparked by the May 25 death of George Floyd and a string of other incidents involving police apparently targeting and then killing or seriously injuring Black people.
Last week, an attorney filed a lawsuit against the WSP over a June protest that took place on I-5 near the Oregon border in Vancouver, Washington, alleging that WSP endangered public health despite restrictions in place due to the COVID-19 pandemic. The same attorney reportedly defended a business owner who opened in defiance of the public health restrictions.
Update 9/4, 6:42 p.m.: This article has been updated to include a statement from Washington State Trooper Rick Johnson.