Video Appears to Show Wisconsin Protesters Throwing Brick at Police Officer, Smashing Police Car Windows
Videos across social media depicting protests following the police shooting of an unarmed Black man in Wisconsin show one officer apparently being hit by a brick.
In a video posted to Twitter by Breaking911, protesters can be seen surrounding a police car in Kenosha, and the sound of glass breaking can be heard. Shortly afterward, two officers walk back toward their car when one of them drops to the ground and appears to be unconscious.
"Video appears to show police officer knocked unconscious after being struck in the head with a brick; Curfew declared in the city of #Kenosha after police shooting," Breaking911 wrote as the caption to its tweet.
According to The Journal Times in Racine, Wisconsin, shouts of "officer down" were heard on police scanners.
Newsweek reached out to the Wisconsin Department of Justice and the Kenosha Police Department for confirmation but did not receive a response in time for publication.
There were several other protests across Wisconsin following the police shooting of Jacob Blake, an unarmed Black man, by Kenosha police.
According to a press release from the police department, the officers arrived at the scene at around 5:11 p.m. local time "for a domestic incident and were involved in an officer involved shooting."
"Officers provided immediate aid to the person," the release said, adding that the victim was transported to a nearby hospital and "is in serious condition."
Following the incident, protesters across the city took to the streets, condemning the police for the shooting.
In several videos posted to Twitter by user Justin L. Hunte, protesters can be seen yelling at police and standing on top of police cars.
A subsequent video shows numerous protesters damaging a police car, breaking its windows, while another video shows a garbage truck in flames.
Kim Shine of Milwaukee news station WDJT shared several other videos of the protests in Kenosha, with one showing protesters jumping and stomping on police cars. According to Shine, protesters gathered outside of the Kenosha police station, but officers used teargas to disperse the crowds.
As the protests continued, the police imposed a citywide curfew until 7 a.m. local time, encouraging businesses to close down "due to numerous arm robberies and shots-fired calls."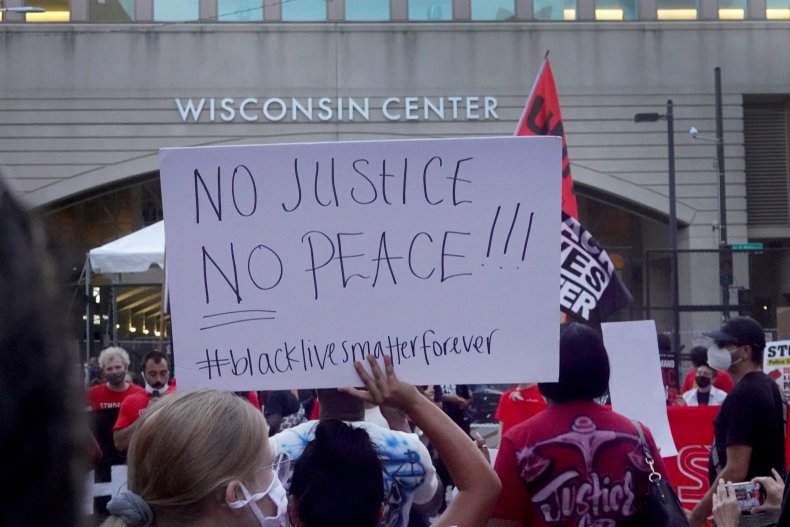 In a statement posted to Twitter, Wisconsin Governor Tony Evers wrote, "While we do not have all of the details yet, what we know for certain is that he is not the first Black man or person to have been shot or injured or mercilessly killed at the hands of individuals in law enforcement in our state or our country."
Evers continued, "Tonight, Jacob Blake was shot in the back multiple times, in broad daylight, in Kenosha, Wisconsin. Kathy and I join his family, friends, and neighbors in hoping earnestly that he will not succumb to his injuries. We stand with all those who have and continue to demand justice, equity, and accountability for Black lives in our country—lives like those of George Floyd, of Breonna Taylor, Tony Robinson, Dontre Hamilton, Ernest Lacy, and Sylville Smith."
The governor added, "I have said all along that although we must offer our empathy, equally important is our action. In the coming days, we will demand just that of elected officials in our state who have failed to recognize the racism in our state and our country for far too long."