Video: Ariana Grande Channels Broadway As She Hits the Road With James Corden in 'Carpool Karaoke'
Ariana Grande just proved—once again—that she has one of the most versatile voices in music.
The 25-year-old popstar crushed some of her hits and a wildcard Broadway number during a "Carpool Karaoke" trip around the streets of Los Angeles with James Corden for the Late Late Show on Wednesday.
Grande started the segment with a harmonized rendition of "Dangerous Woman" then moved onto "God is a Woman," "Side to Side" and "No Tears Left to Cry," before taking a moment to reveal the most ridiculous rumors that tabloids have printed about her.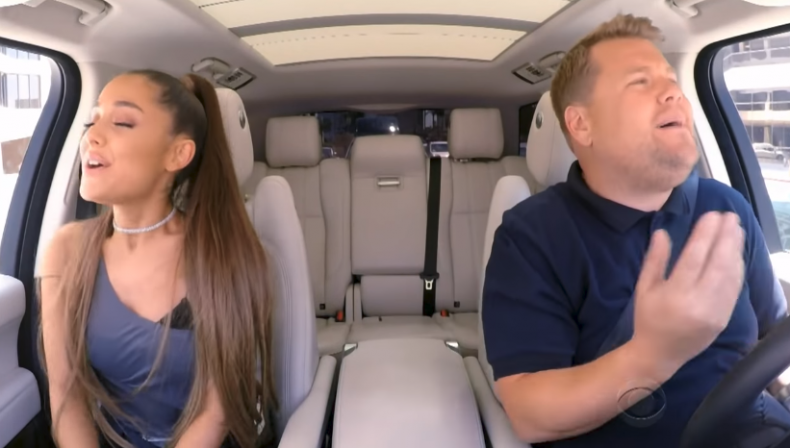 "There's tons of pregnancy stuff. People really want me to be pregnant," Grande said. "They want it so bad. Every other week there's a pregnancy thing."
Corden responded by asking her about headlines that claimed she insisted on being carried around by her security guard.
"I'll tell you what happened," she explained. "There's a picture of me being carried by my tour manager because I had just shot a video in pointe shoes and I posted it because I thought it was cute. My toes were bleeding and I was in pain, and I was like 'Oh, thank you.'"
The pair then park the SUV for some Starbucks, but instead of walking into the store, Corden carried Grande inside. "Hello, I'm Ariana Grande, and I must be carried," the singer quipped to a room of confused customers. "That's just the kind of pop star I am. If you see me anywhere, it's because I didn't walk there, I promise."
During the segment, Grande also pulled off a hilarious impression of Celine Dion and Broadway musical Little Shop of Horrors. "Literally, Audrey's like my dream role," Grande revealed, before launching into a duet of "Suddenly, Seymour."
Earlier this week, Grande and Corden acted out scenes from the award-winning 1997 film Titanic with added modern hits. The pair even went as far as recreating the famous "I'm flying, Jack!" scene at the front of the ship while breaking into Foo Fighters' "Learn to Fly."
But the most notable moment of the segment was when Corden and Grande harmonized Celine Dion's iconic Titanic hit "My Heart Will Go On."
"Oh man! I'll never forget the moment we decided to try it! Thanks for making me do it!!!!!" Corden tweeted after the sketch.
"Crushed it w the prettiest placement too! Please have me back like every day. Love u. Thank u!" Grande replied.