Video: Arkansas Police Helicopter Botches Takeoff, Crashes in Little Rock
The police department in Little Rock, Arkansas, has released new footage showing a botched helicopter takeoff that happened at its training center last week.
Officials told local media they were testing a new battery which had been installed in the vehicle. The pilot, named as William "Bill" Denio, was "seriously injured" in the crash but is now in a stable condition. On Facebook, Little Rock Police Department revealed Denio is a retired officer.
"The officer on the helicopter was performing a maintenance check," the department confirmed on Monday, saying that the incident took place at approximately 11 a.m. (CDT). According to news outlet KARK, a second person who was inside the helicopter was not injured in the accident.
Little Rock Police Department published a selection of images from the scene online this week. KATV said Denio retired in May 2010 but was later employed by the Aviation Unit in 2012.
The released footage starts by showing the 2001 Bell TH-67 observation chopper sitting on a takeoff pad with its blades spinning. As it lifts off, it instantly swings out of control from left to right, pushing forwards without gaining altitude. It briefly touches the parking lot cement as a man is seen rushing out of a nearby building waving his arms, telling the pilot to descend.
But the helicopter pulls back suddenly, with its landing bars catching the edge of the raised platform underneath. It dramatically flips 90 degrees to the right.
The blades slice into the ground and quickly blast away from the chopper. Watching the incident unfold, the eyewitness retreats back inside to stay safe from falling debris but is then seen sprinting outside to aid the pilot. The entire crash happens in under 20 seconds.
The accident took place on August 16, according to previous Facebook posts. "Little Rock Police Department currently on the scene of a helicopter crash," officials acknowledged. "The helicopter belongs to LRPD and there are injuries. Location of incident is 11400 Ironton Rd."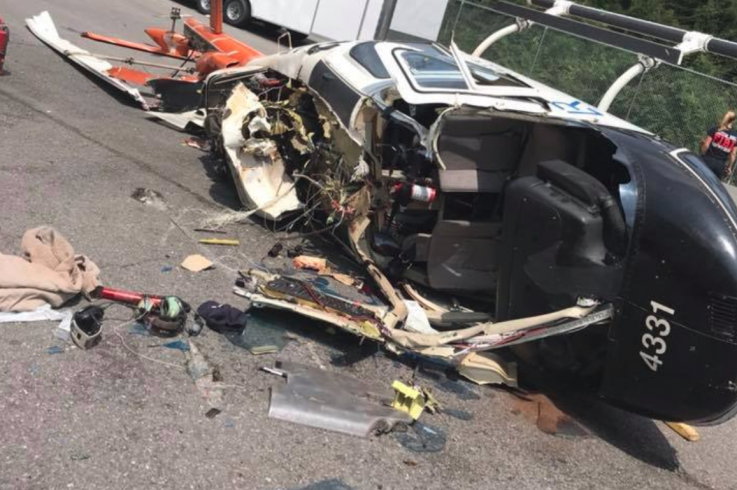 Video: Arkansas Police Helicopter Botches Takeoff, Crashes in Little Rock | U.S.