Video of Arkansas Students Lining Up To Challenge Senator Viewed 300K Times
A video showing a group of Arkansas teenagers challenging Republican state Senator Jane English about a recent education bill has gone viral on social media where it's been viewed over 300,000 times.
The clip shows a group of students from Little Rock Central High School attempting to raise their concerns and doubts over Senate Bill 294—pushed by Governor Sarah Huckabee Sanders. Critics of the bill have expressed fears that the legislation, which will include school vouchers, may lead to division among racial and economic lines.
The students told the senator that the latest amendments to the bill don't address all issues.
Senator English shuts the students down one after the other. "I'm sorry, you just don't get to talk on the bill," English can be heard telling the students at a certain point in the video. "If you want to talk about this amendment, specifically things that are in this amendment, you're free to do that, but you cannot speak on the bill."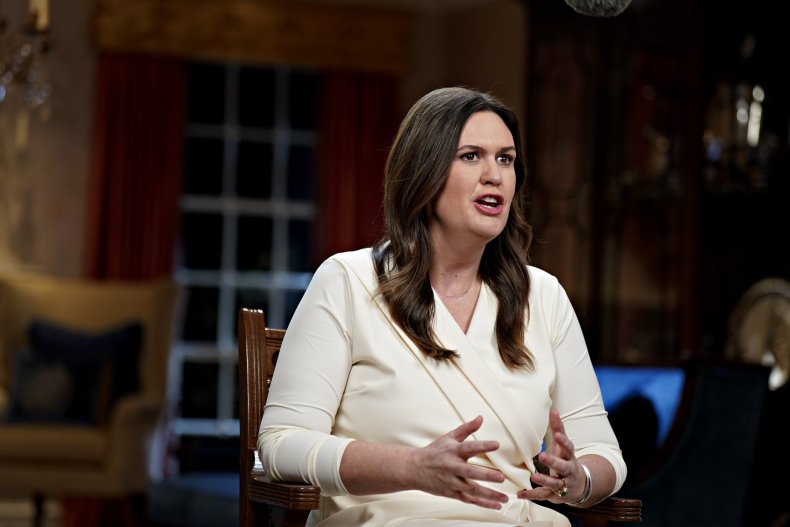 Senate Bill 294, also known as the LEARNS Act, had already passed both chambers by the time students could raise their concerns in this latest hearing. The hearing—unlike others held previously—was not during school hours, which meant that the students could only comment on a six-page amendment sent back to the education committee for debate.
The bill's vouching program in particular has raised concerns among critics of the bill, who are afraid that it will create segregation within schools. Under the bill's vouching program, students will be allowed to use 90 percent of the statewide foundation funding from the prior school year to enroll in the public, private, or home schools of their choice.
Amid interruptions by English, student Ethan Walker said, "I'd like to speak on the amendments, and how they do not go far enough to tear down and decimate this bill. These petty little wording rearrangements don't do anything to address how bad this bill actually is."
Little Rock School Board member Ali Noland condemned English for the way she shut down the students "who have shown up to participate in the legislative process" and described the senator's behavior as "disappointing."
"By talking to them and cutting them off in this way, believe me, you are giving them much more of a platform than you would have if you had just listened to their criticism of the amendment in the first place," Noland concluded. "They showed up after school on their own time to tell you these amendments do not satisfy their concerns."
The bill was approved by the Arkansas Senate on Tuesday in a 26 to 8 vote after having been amended last week in the state's House of Representatives. In addition to the introduction of school vouchers, the bill entails a $14,000 raise in the starting salary for teachers, a dual diploma for high school students learning a trade, and a repeal of the Teacher Fair Dismissal Act, which would make it easier for school districts to fire staff for poor performance.
"Sarah Huckabee Sanders' LEARNS bill will usher in a new era of segregation in Arkansas, where middle and upper-class white families take resources from public schools to escape to private ones, leaving marginalized kids with crumbling facilities, an antiquated curriculum, and teachers who are forced to prioritize their job security over the quality of their instruction," a letter written by Little Rock Central High School students Bekah Jackson, Gryffyn May, Addison McCuien and Ernest Quirk read.
Sanders signed the bill into law on Wednesday.
"I am not interested in being a caretaker of the failed status quo. I vowed to be a changemaker for our people," she tweeted on Wednesday before signing the bill. "Today, I am delivering on that promise, and will sign into law my transformational education plan, unleashing a new era of freedom, opportunity and prosperity for all."
Newsweek has emailed English's and Sanders' teams for comment.