Video: Armed Cops Surround JFK Airport In Hijacking False Alarm—'People Were Ready to Die'
A JetBlue airways flight leaving New York's John F. Kennedy International Airport was stormed by armed police on Tuesday evening, after a communication glitch reportedly caused the plane's pilot to accidentally trigger a hijack alert.
At around 8 p.m., Los Angeles-bound JetBlue Flight 1623 stopped responding to air traffic control as it was taxiing for departure. According to The New York Daily News, Port Authority Police Emergency Services quickly entered the plane following the security scare.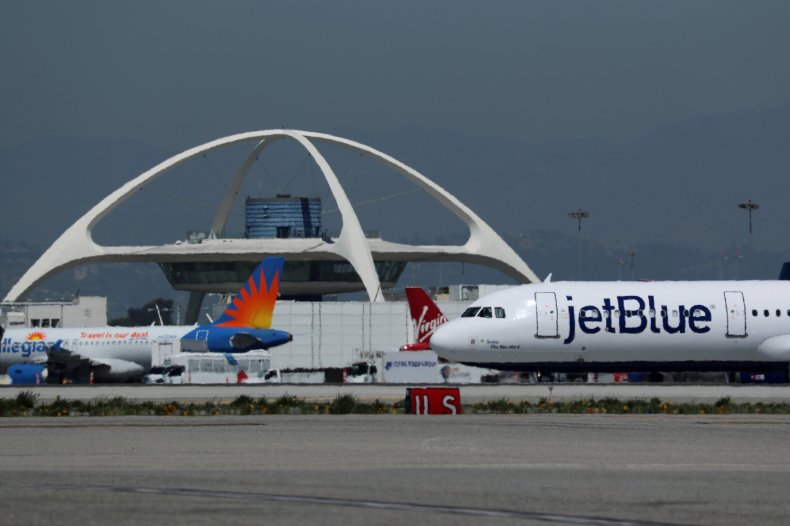 "I am on a Jet Blue flight at JFK that lost its communications. Created a security crisis. 10 heavily armed cops boarded plane and just left. After 1.5 hours on runway being towed back to gate. Wow," Tony Schwartz, allegedly a passenger on the plane, tweeted.
Alexa Curtis, another passenger, posted images from inside the plane showing all the passengers raising their hands while police surrounded the aircraft. "Woah. My worst nightmare. @Delta JFK to LAX right now, honestly thought we were going to die. I AM ALIVE THANK GOSH I MEDIATE U GUYS what is going on," she wrote alongside the images, mistakenly confusing Delta for JetBlue.
Following the incident Curtis told CBS Los Angeles that the police were holding guns and pointing them at the passengers. "I hate guns. They were pointing them, like, at us," she said. "It was traumatizing."
She added: "People were, like, crying. Everyone's texting their family, and we were on ground, so usually this would happen in the air if it was gonna happen... People were ready to die."
Later that evening, Lenis Rodrigues, a Port Authority spokesperson, confirmed the incident. "There was a false alarm sent to tower as a result of a radio communications failure," she said. "[The] aircraft was inspected and cleared with no security threat."
In a statement, Paul Acevedo, a JetBlue spokesperson, said the flight experienced a "radio issue" that impeded the crew's "ability to communicate." "A false alarm was sent to JFK tower," she wrote. "While communication was re-established via alternate channels, authorities responded in an abundance of caution. The aircraft was cleared and returned to the gate for inspection."