VIDEO: Astonished Cops Find $3 Million in Random Traffic Stop
Australian police have charged a man with money laundering after a routine traffic stop revealed that his car had two suitcases in its trunk crammed with AU$4.1 million, worth roughly $3 million in U.S. dollars.
The incident took place in the southern Brisbane suburb of Calamvale, Queensland, at about 5 a.m. on Nov. 20. Queensland police released footage of the stop along with a statement on Nov. 22.
At the start of the traffic stop, police said that they initially "watched the driver place a large suitcase in the boot [trunk] of his vehicle as they approached." While speaking to the suspect, police said that he became "nervous and elusive."
The video then shows the Australian police officers looking through a man's car. One police officer can be heard asking the suspect, "Are you going to tell me what's in that bag?"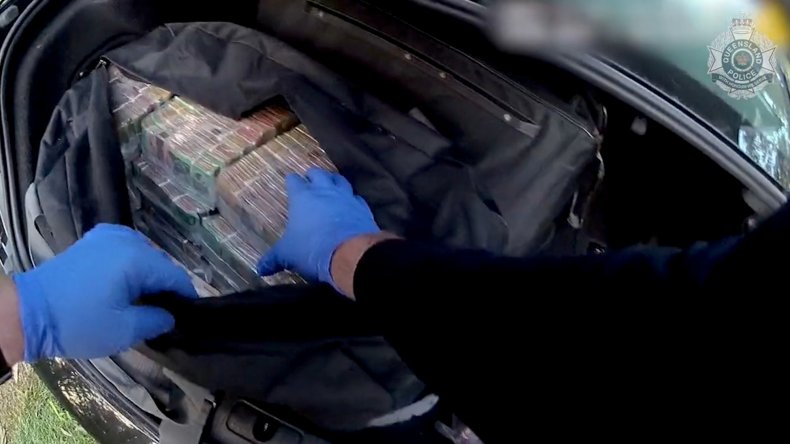 In the next shot, one of the police officers, wearing a body camera, can be seen opening the bag in the trunk of the man's car, using a penknife, as the bag was sealed shut with a cable tie.
The police officer cuts through the cable tie and opens the bag to reveal wads of cash stashed inside it.
One of the police officers in the video can be heard saying: "It's cash. It's all cash."
And shortly thereafter, one of the police officers can also be heard saying: "Two bags in the boot [trunk]. Absolutely full of cash. Like, mate, fifties, hundreds, twenties, all in vac-sealed bags."
Police said that after doing some counting, they concluded the bags held AU$4.1 million in cash, ($2.95 million).
The man, a resident of New South Wales whose identity has not yet been disclosed, was arrested and subsequently charged with money-laundering. Individuals carrying sums of money that exceed AU$10,000 ($7,200) must declare such amounts to the authorities, according to the Australian government. Under Australian law, anyone found guilty of illegally moving AU$1 million or more can be sentenced up to 25 years in prison.)
Police said the suspect has also been charged with failing to comply with the country's COVID-19 public health directives, which have placed major restrictions on freedom of movement in a bid to corral the coronavirus pandemic.
The suspect is set to appear on the charges at Brisbane Magistrate's Court on Dec. 6.
This story was provided to Newsweek by Zenger News.