Big Brother is Watching Your Surgery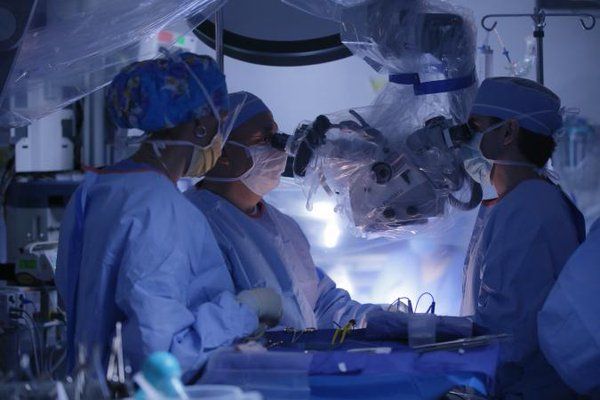 If you've ever watched Grey's Anatomy, you know that hospitals are complicated systems with many moving parts (and sometimes, lots of drama). Doctors, nurses and other staff face endless demands and a long list of things that can go wrong. That means mistakes can (and often do) happen, especially in recent decades, as most hospitals have been forced to provide the same care on far more patients with far fewer resources. The result: Errors cause 400,000 deaths each year, according to the Journal of Patient Safety.
But one hospital in New York has found, what many call, a good solution. Since 2013, all 24 operating rooms at Long Island Jewish Medical Center (LIJ) have been wired with a remote video monitoring system created by a company called Arrowsight. Employees at Arrowsight's three remote locations—one in Huntsville, Alabama and two in east India—keep tabs on the video footage.
Adam Aronson, founder and chief executive officer of Arrowsight, created the system a number of years ago, after his sister and mother developed infections from hospital visits. He realized if there had been better oversight, doctors and nurses could have prevented those potentially life-threatening infections.
Operating rooms have long been equipped with cameras for security and training purposes. But video technology has rarely been used to improve patient care. Arrowsight's staff check in with the videos once every two minutes, and follow a checklist to look out for errors that could creep into surgery when staff skip steps in safety protocols. The data they collect on the performance of each team is then streamed real-time to the frontlines of the operating room; the medical teams and staff in charge can view the information on their smartphones.
"What it's doing is telling staff exactly what's going on in every room all throughout the day," says Aronson. "So a cleaning team can look up at this board and say okay, we have a room where the drape is down in OR 22. I know that room the patient is going to leave soon and we can come clean the room.'"
The information is also viewable on large monitors in the main hub of the hospital's surgery department. The system rates each team's performance level and creates some friendly competition as a team stops to review a checklist before starting or finishing a surgery. "To get in the 'winner's circle' you need to do the time-ins, sign-ins and time-outs perfectly per the hospital's criteria," says Aronson.
At LIJ, the staff has reduced patient wait times by approximately 15 percent since the videos were installed, according to a paper based on the pilot program published in BMJ Quality & Safety.
To protect patient privacy and keep staff accountable, the video is recorded in low-resolution. This makes faces nearly indecipherable, though you can still see details of what is occurring in the room. The videos are then deleted after 24 hours—the footage serves no purpose other than to create the data, which is saved by Arrowsight. The main reason: it prevents the footage from becoming evidence in malpractice claims.
Compared to the potential cost of surgical mistakes, the price to run the video systems is negligible. The hospital spent a little more than $11,000 per operation room to set up the system, and Arrowsight charges LIJ approximately $40 each day per operation room for the auditing and data collection.
Aronson initially created the technology for the meat industry, designed to track how employees were handling live and slaughtered animals. But he soon realized the technology would be useful in hospitals. So he conducted a pilot program at a 17-bed intensive care unit at North Shore University Hospital to see if it could improve an all too common problem: health care providers frequently don't wash their hands.
In the course of the 16-week pilot program, hand hygiene adherence increased from 10 percent to nearly 82, according to paper published in Clinical Infectious Diseases. Remote video auditing has also shown to be a highly effective time management tool.
LIJ has tried other ways of improving staff performance, such as sending someone to the operating room to randomly observe and review cases or having an external person with a clipboard observe. But the video monitoring system has proven to be most effective. From 2014 to 2015, Dr. John DiCapua, chairman of anesthesia at Hofstra Northwell School of Medicine, Long Island Jewish Medical Center and Northshore University Hospital, led a study on the Arrowsight video system for LIJ. He found that within a matter of weeks, the staff's ability to stick with safety guidelines rose from 24 percent to greater than 90 percent.
DiCapua says the video system has also helped ease the stress of delivering care efficiently. "You got patients that want to come in, they like to get their cases started on time, we've got another case to follow, turnover time, it's a very expensive environment," he says. "We're trying to be efficient. Society's asking us to be cost-effective. All of those production pressures get in the way or compete with safety behavior."
He says the hospital has since expanded the use of the system into other areas of service including labor and delivery, endoscopy and cleaning of equipment in the emergency room.
"The beautiful thing about video in a timely fashion is it allows you to get a set of powerful data that you can then, as leaders, sit down and make judgements on and understand how to improve."