Video of Baby Eagle Fed by Eagle Hand Puppet Goes Viral, Captures Internet's Heart
A hand holding a pair of chopsticks reaches out of the mouth of an eagle hand puppet to feed a chirping one-week-old Philippine eagle in a video viewed nearly 800,000 times on Facebook.
"Chick 29 at one week old enjoying a meal with the help of an eagle hand puppet," the caption on Philippine Eagle Foundation's video reads, noting that the puppet was created by Jennifer Miller of Featherdust Studio.
Officials with the nonprofit explained that using a puppet helps keep Chick 29 from getting used to human presence.
"Limited human contact can help ensure a successful natural pairing with another eagle," the video caption reads.
A post published on the Featherdust Studio Facebook page stated that the hand puppet was sent to the organization a few years ago.
Miller told Newsweek she has been passionate about conservation and created a wearable costume of a Philippine eagle, which she brought to the International Ornithological Congress in Vancouver in 2018.
There, she met with ambassadors from the Philippine Eagle Foundation who asked her to create a hand-feeding puppet for the organization that would replace another hand-feeding puppet.
"Crafting a puppet was new to me, and making a working puppet that is also able to safely handle the raw meat needed for the chick and be kept clean was a challenge," Miller recalled.
Over the course of several months, she crafted the puppet head to be the size close to that of a living Philippine eagle's head, while allowing room for the caretaker's hand.
"As I am in the USA and crafting long-distance, some aspects were done via careful guesswork," Miller explained.
The puppet she created was designed to allow for the beak itself to be used to deliver food to the chick, or for chopsticks to be used to deliver the food.
She said that due to a disability, she is unable to commit to creating more puppets using the same methods she used for the puppet she created for the Philippine Eagle Foundation. However, Miller said she is learning digital 3D sculpting and is interested in learning 3D printing to create puppets in the future as part of her conservation efforts.
According to its website, the Philippine Eagle Foundation works to protect and conserve the Philippine eagle species, collaborating with local communities and organizations to do so.
Though considered one of the largest and most powerful forest raptors, the Philippine eagle is listed as critically endangered by the International Union for Conservation of Nature. Officials with the Philippine Eagle Foundation said there are about 400 pairs left in the wild.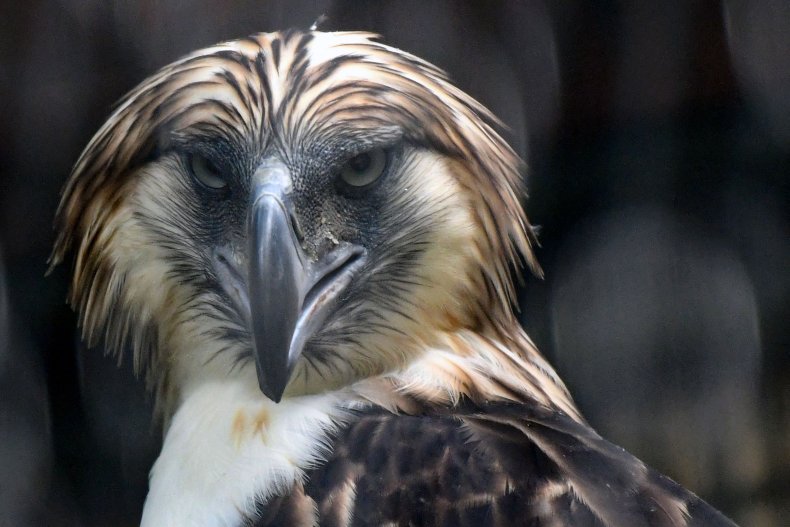 The Philippine Eagle Foundation reported that an eagle lays a single egg every two years. This allows the time for the offspring to get to a point where it can live on its own. Once the offspring goes off on its own, an eagle may lay another egg.
However, several factors have led to the endangered status of the Philippine eagle, including deforestation and hunting.
"The forest is the only home for the Great Philippine Eagle," officials with the Philippine Eagle Foundation said. "It is where they obtain food, reproduce and nourish their offspring. Unfortunately, illegal logging and irresponsible use of resources have resulted to the disappearance of their forest habitat that brings deathly consequences to the species."
The organization's video features one of the newest chicks that hatched in early December 2021. According to a previous Facebook post, it took just over 25 hours for Chick 29 to hatch, which officials said is the fastest pip-to-hatch record in the Philippine Eagle Foundation's breeding program.
Viewers of the video were thrilled for a glimpse into conservation efforts.
"I'm glad that there are still people who really takes care of our environment and this eaglet is the future of all eagles," Maria Celmar Sun commented.
Thamira Gallo encouraged the Philippine Eagle Foundation to post more videos of the eagles.
"Thank you for all your valuable efforts!" Roo Crab wrote.
The video also made its way over to Reddit's r/HumansBeingBros, where it received more than 57,000 votes.
"Well that melted my heart…" u/murtr wrote.
"I'm not a fan of birds, but those peeps melted my heart," u/A_Miss_Amiss commented.
Newsweek reached out to the Philippine Eagle Foundation for further comment but did not hear back by press time.