Video: Banksy Artwork 'Trolley Hunters' Stolen From Toronto Exhibition
Police in Toronto have launched an appeal after a Bansky artwork was stolen from an exhibition in Ontario, Canada.
Surveillance footage taken from inside the building in Toronto where "The Art of Banksy" exhibit is being held shows the suspect tip-toeing around the studio space just after 5 a.m. on Sunday, June 10.
The suspect slowly walks around the perimeter of the room before disapearing from the camera's view. The alleged thief can then be seen brazenly carrying off the print Trolley Hunters, estimated to be worth around 35,000 Canadian dollars ($26,000).
The stolen work, created in 2007, shows three crouching hunters creeping up on two shopping carts in an outback-like setting.
The suspect can then be seen leaving through the same door he entered. The Toronto Police Service have now released the footage of the robbery and asked the public for help in the break-and-enter investigation.
The suspect is described as male, wearing glasses, black jacket, green camouflage baseball hat, blue jeans rolled at the cuff and grey running shoes.
The exhibit, containing more than 80 original pieces, is believed to be the largest ever collection of Bansky artwork assembled in a single place, although it has not been authorized by the famously secretive artist.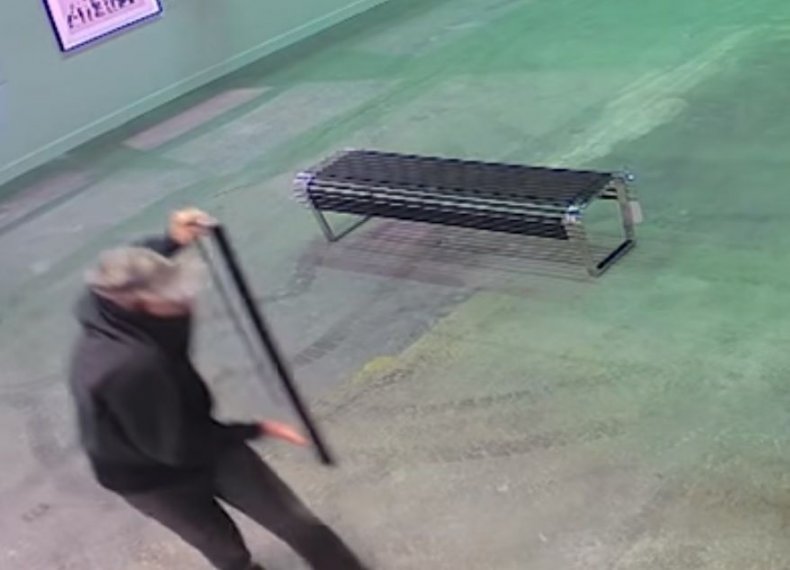 The show's curator, Steve Lazarides, used to work with Banksy, but admits the pair have not spoken for more than a decade and that the artist would not be a fan of the exhibition.
"I'd imagine he's annoyed in the fact that it's not him that's controlling it," Lazarides told the Toronto Sun. "But I don't always necessarily think that artists are the best people to stage retrospectives of their work.
"I've been there looking at it for the last 20 years so I'm not looking at it through the same eyes as his. He's not sanctioned it, I've not asked him, but I think he belongs to the general public and the general public have made him who he is and they deserve to see these works," he added.
A statement on Banksy's official website points out he is not on Facebook, Twitter or "represented by Steve Lazarides or any other commercial gallery."
Anyone with information is asked to contact the 11 Division Major Crime Unit at 416-808-1100, Crime Stoppers anonymously at 416-222-TIPS (8477), online at www.222tips.com, online on our Facebook Leave a Tip page, or text TOR and your message to CRIMES (274637). Download the free Crime Stoppers Mobile App on iTunes, Google Play or Blackberry App World.