Barack and Michelle Obama have once again shown they are living their best life, with footage emerging of the pair dancing at a Beyonce and Jay-Z concert.
Fans of the former president and first lady posted videos of the pair enjoying themselves on Instagram, with one social media user describing the moment she saw the former first couple as "the highlight of my life."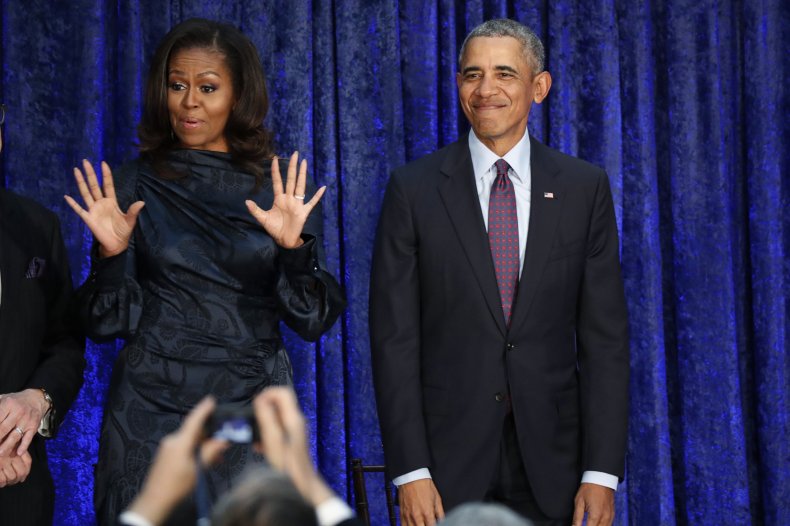 "The HIGHLIGHT of my life. I saw my idols @barackobama and @michelleobama be normal and jam out to @beyonce and Jay-z," she wrote, posting footage of the pair dancing in what appeared to be a private box. From the looks of the footage, all eyes were on Barack and Michelle, with numerous camera phones pointed at the pair to get a snap of them enjoying themselves.
Barack and Michelle spent their Friday night at Beyoncé and Jay-Z's On the Run II Tour in Washington, D.C., surrounded by a host of excited fans.
"Obama is at Beyoncé's concert I wanna cry IM BREATHING THE SAME AIR AS MY PRESIDENT," another social media user wrote, while one excited fan added: "So I'm at a Beyonce concert waiting for the queen and her husband to come out and I see people turning around and losing their s h i t and o turn around and see THE. FUCKING. OBAMAS. just chilling like 30 ft behind me."
Just two weeks ago, Michelle Obama was spotted at Beyoncé and Jay-Z's show in Paris, accompanied by her daughter Sasha. She danced with Beyonce's mother Tina Knowles Lawson, CNN reported.
Since leaving office in January 2017, former President Obama "living his best life" has been something of a theme, with fans of the Democrat enjoying pictures of him holidaying with businessman Richard Branson, traveling with wife Michelle, and generally appearing to have the time of his life.
Obama's latest outing comes after he was voted among the best presidents of people's lifetimes–beating incumbent President Donald Trump.
The survey, from the Pew Research Center, found that 44 percent of Americans believed Obama was the best or second-best president of their lifetime, while 33 percent named Bill Clinton and 32 percent came out in support of Ronald Reagan.