Video: Beach Swallowed by Huge Gaping Hole
A landslip has swallowed a 300-meter chunk of shoreline at an Australian beach.
The landslip opened up overnight at Inskip Point near the coastal Queensland town of Rainbow Beach.
The Queensland Parks and Wildlife Service said it is monitoring the erosion, which has been widely referred to as a sinkhole but is, in fact, a "nearshore landslip." No injuries have been reported and property in the area has not been affected, according to officials.
Members of the public are advised to avoid this part of the beach.
The event is thought to have been caused by tidal flow, waves and currents wearing down the shoreline from below the waterline. The friction likely caused the shoreline to lose support, prompting huge sections to slide into the sea, resulting in an enormous hole.
Double Island Point Fishing charters shared footage of the sinkhole from the perspective of the shore, and predicted it measured 7.5m-deep.
Diana Journeaux, of the Rainbow Beach Helicopters service, told the Australian Associated Press the gap was not visible from the air on Sunday, but had materialized by the time crews flew over the area on Monday.
The hole yawned open a few hundred meters from where a sinkhole appeared in 2015, she said. Several months later in 2016, the coastline eroded further.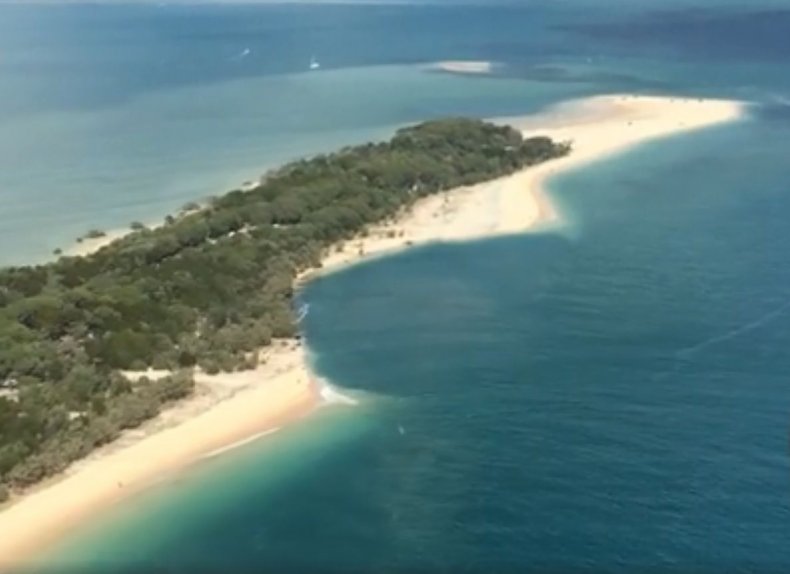 During that incident, around 300 campers were forced to flee as land along the shore fell away, News.com.au reported at the time. The near-shore landslide engulfed 200 meters of coastline, as well as a car, caravan, tents and a camping trailer.
Glen Cruickshank of Rainbow Beach Helicopters, the organization which shared a video of the hole on Facebook, told Newsweek the new hole appeared to be "considerably bigger than [the hole in] 2015.
"It's just a natural thing that happens but you wouldn't say the locals are use to them," he said. "It took two years for the last one to completely disappear."
Allison Golsby, a geotechnical engineer, told ABC News it is feared Inskip Point might one day disappear entirely.
This article has been updated with comment from Glen Cruickshank.