Video of Bernie Sanders Photobombing TikTok Dance Goes Viral
A TikTok dance video has gone viral after Senator Bernie Sanders made a guest appearance—by accident.
The Vermont senator has been consistent meme fodder and has been embraced by even those who do not align with his politics.
But Sanders has once again found himself in viral online content when he appeared to photobomb a TikTok user's dance video in Manhattan.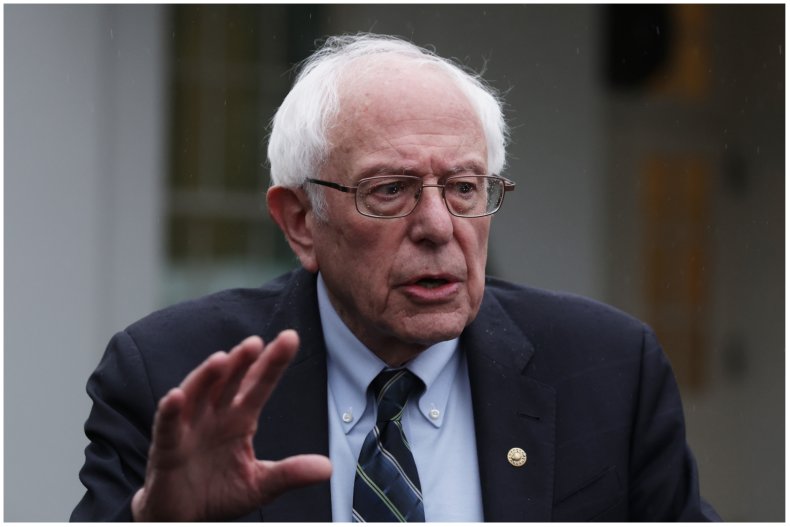 In the clip, TikTok user taylorcham is seen dancing with a hotel doorman while Sanders could be seen on the left side of the screen.
Seemingly irritated by the fact both dancers were taking up space, Sanders shot an apparently disgruntled look at them before walking off out of shot.
Since being shared on TikTok on Monday, February 20, the post has attracted more than 1.3 million views and some 232,200 likes.
The video was also uploaded to Twitter where it attracted more than 2.5 million views since being shared the same day.
Many of those who commented on the post found the senator's reaction hilarious and empathized with him.
TikTok user richiechu said: "POV (point of view): Bernie changing his mind about being for the young people."
Rabbitfuut added: "I feel Bernie's pain. I'd have the same look on my face."
Vince Cravioto commented: "I like how he respectfully went around instead of interrupting the video."
Tobita Chow posted: "If you can't accept Bernie at his 'what are you kids doing?' You don't deserve him at his 'it is an outrage that American workers don't get paid sick days.'"
In a separate video, taylorcham apologized to Sanders and said she did not realize he was in the clip until after they had stopped filming.
She added: "I saw the doorman actually had a TikTok where he was tagging the place and was like 'dope, like, maybe I'll just make one with him.'
"I'm about to check out, the very moment I walk outside. This whole trip nothing happens and the moment I step out of my comfort zone and I get in the way of Bernie Sanders' walking space.
"I apologize, it will never happen again. Your sister was very nice and honestly, in this video, I didn't even notice. I didn't know until after we were recording that he was walking in the background of it."
Sanders is no stranger to going viral, although admittedly he has gained online traction through little effort on his part.
One of the biggest memes of 2021 was the image of Sanders at the inauguration of Joe Biden.
The senator was seen sitting on a chair wearing mittens to fend off the bitter cold in Washington D.C. that day.
But Sanders was able to use the meme to the benefit of people in Vermont after sweatshirts with the image of himself were sold in aid of charity.
All proceeds from sales of the $45 top were donated to Meals on Wheels Vermont, the campaign said. The item quickly sold out "due to overwhelming demand."