Video: Beto O'Rourke Says Border Barrier Causes 'Suffering and Death,' Has to Go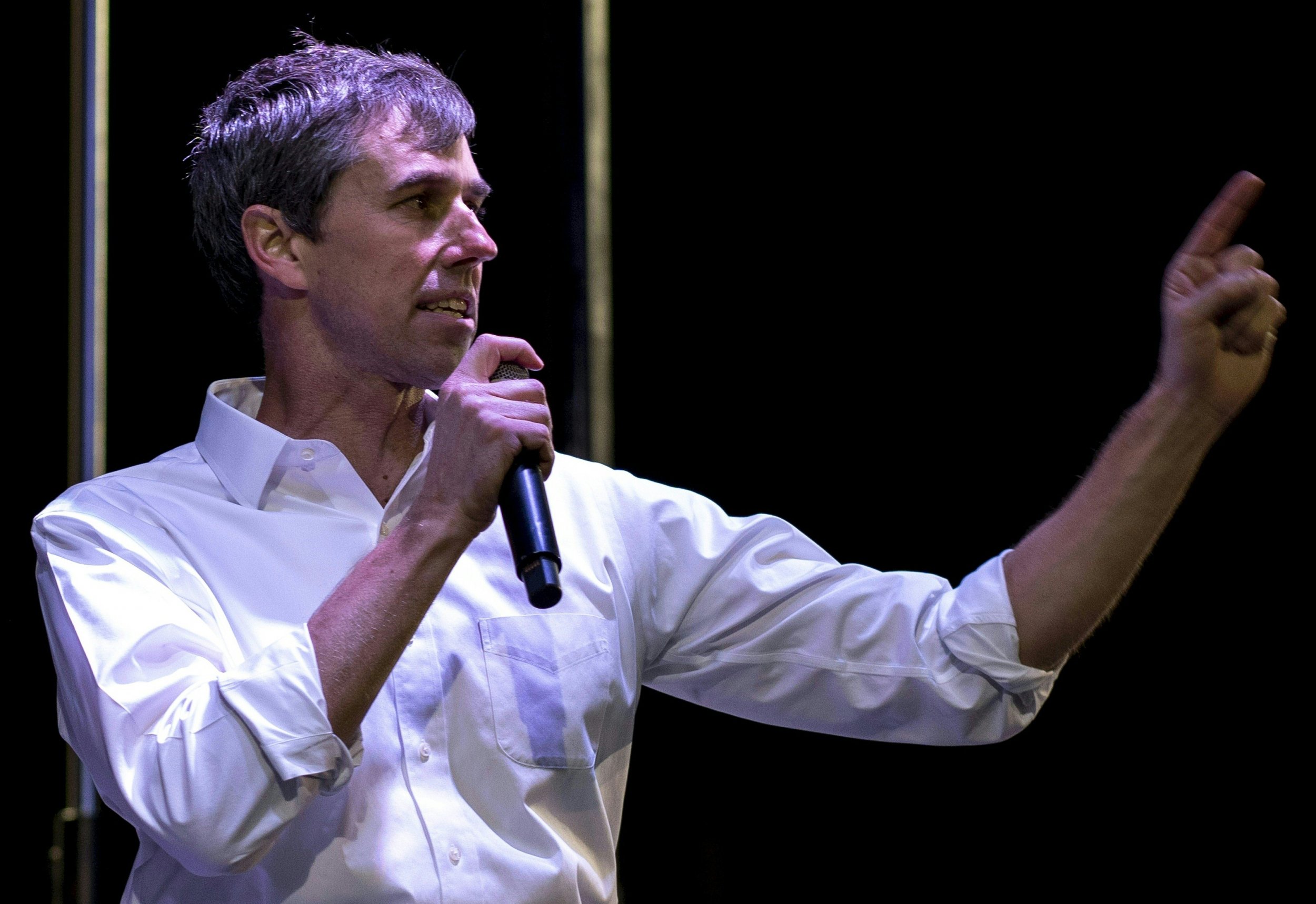 Former Texas congressman Beto O'Rourke has said that, if given the chance, he would take down the 600 miles of wall and fencing along the U.S.-Mexico border in El Paso, adding that it had only caused "suffering and death" for asylum seekers.
In an interview with MSNBC's Chris Hayes on Thursday, O'Rourke said he would "absolutely...take the wall down" if he could, arguing that it has done nothing to make Americans "safer," while putting the lives of asylum seekers at risk.
"Here's what we know: After the Secure Fence Act, we have built 600 miles of wall and fencing on a 2,000-mile border," O'Rourke said. "What that has done is not in any demonstrable way made us safer."
"It's cost us tens of billions of dollars to build and to maintain and it has pushed migrants and asylum seekers and refugees to the most inhospitable, the most hostile stretches of the U.S.-Mexico border, ensuring their suffering and death," O'Rourke continued.
"More than 4,000 human beings—little kids, women and children—have died. They're not in cages, they're not locked up, they're not separated. They're dead, over the last 10 years as we have walled off their opportunity to legally petition for asylum...in urban centers like El Paso, to be with family, to work jobs, to do what any human being should have a right to do. What we would do if faced with the same circumstances as they were," he said, appearing to cite numbers from an exclusive Associated Press tally.
O'Rourke, considered a potential candidate for the 2020 Democratic presidential nomination, said he believed that if a referendum were held in El Paso on whether to take down the border wall and fencing in the West Texas city, the barrier would be removed.
Questioned on his strong stance against the U.S. government's treatment of migrants, asylum seekers and refugees, O'Rourke said: "It's perverse, the response that we have to legitimate concerns and problems."
Noting the transformation of U.S. immigration law and policy that took place after the September 11 attacks, O'Rourke said: "International terrorism, which was orchestrated in Afghanistan, by al-Qaeda, carried out by people from Saudi Arabia, we punish people from Mexico at the U.S.-Mexico border.
"We wall off 600 miles of the U.S.-Mexico border, precisely zero terrorists or terrorist organizations have ever used the border to attack a single American. So, we do this whether it is the war on terror, the war on drugs, we project our fears and anxieties to places like El Paso, to the U.S.-Mexico border and punish the people who live here," he said. "There's no reason to do that, but it is the fear and the anxiety that is stoked by people who should and, frankly, do know better that results in these policies."
O'Rourke's comments came as President Donald Trump looks ready to declare a national emergency over funding for his long-promised border wall.
O'Rourke hit back at the president's threat, asserting that it is "hard to make a rational case for an emergency declaration or troops on the border or any amount of additional border walls or border fencing or steel slats.
"The border has never been as safe and secure as it is now," he said.
O'Rourke cited data showing that El Paso's crime rates were on the decline in the years before barriers were installed along the city's border with Mexico. He said that after the barriers went up in 2008, crime only went up, though he acknowledged that it was not clear whether there was any correlation between the barrier and the boost in crime.