Video: Black Good Samaritan Arrested After Helping Drunk Neighbor into His Maryland House
A black man from Maryland has claimed he was the victim of racial profiling following his arrest outside his own home after attempting to help a drunk man he found unconscious on the ground.
A video clip showing 23-year-old Samir Ahmed being arrested by the Montgomery County Police Department has gone viral following claims the officers unfairly targeted the so-called Good Samaritan.
The clip, filmed by a neighbor, shows several officers trying to detain Ahmed after receiving a call about an intoxicated man who needed medical assistance.
In the footage, one of the officers tells the man recording the video that the 23-year-old is himself intoxicated.
"Actually, he was helping the person who was under the influence," the man recording the video said. "So why are you detaining him?"
Another woman who was witnessing the incident adds: "The man is unconscious on the floor over here, why aren't you helping him?"
When asked what Ahmed was under arrest for, one of the officers replies "we don't answer to you."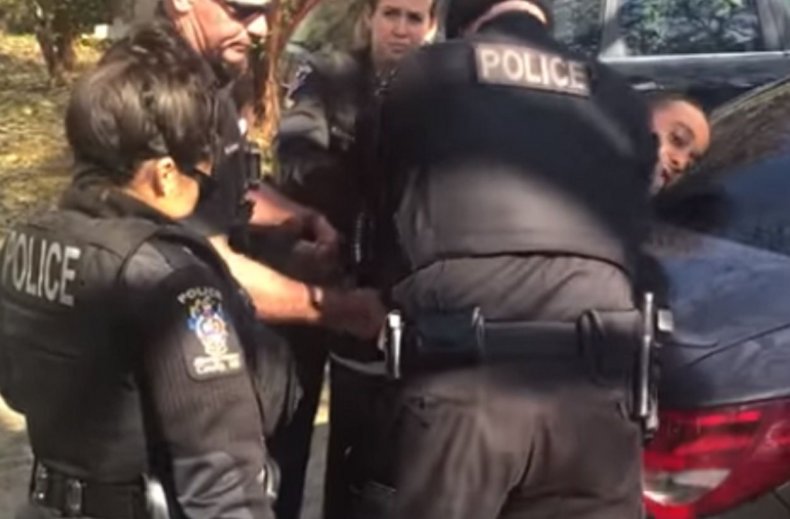 During the 18-minute clip, the officers refuse to respond when repeatedly asked what the 23-year-old is being detained for, much to the frustration of the bystanders.
Eventually, one of the officers responds to the man recording the incident. "The little that I know right now, and I'm going to figure out the rest at the station, is that they came up here for the fire rescue call and this guy happened to be in the area and the officer smelled an odor of marijuana coming from him," the officer says.
"She addressed him with respect to that and then he didn't want to allow her to search him."
Ahmed was arrested and charged with resisting arrest, disorderly conduct and other charges, reports WUSA90.
"I explained that I brought the drunk man home, and she [the female officer] began to become infuriated when I wouldn't tell her his exact address," Ahmed told the Huffington Post.
Ahmed admitted to having marijuana on him, but claimed that it "was such a small amount that I didn't even know I had it."
Ahmed added he believed "without a doubt" race had "played a factor" in his arrest.
The suspect posted a video on the incident on social media in order to "shed light on this situation."
The clip was later shared by actor D.L. Hughley on his Instagram account, which has 1.1 million followers.
The Montgomery County Police Department did not immediately respond to a request for comment.
Warning: Video contains strong language.