Video: Body Cam Footage Shows Man Biting Police Dog During Arrest
Police in Wisconsin have released video footage showing the bizarre moment a suspect in custody appears to bite a police K9.
The Racine County Sheriff's Office released the body cam footage of the March 19 incident involving 44-year-old Leland O'Malley in Dover, Wisconsin, WITI reported.
Officers were first called to reports of loud party in the town. The caller said there was an intoxicated man outside his house who refuses to leave.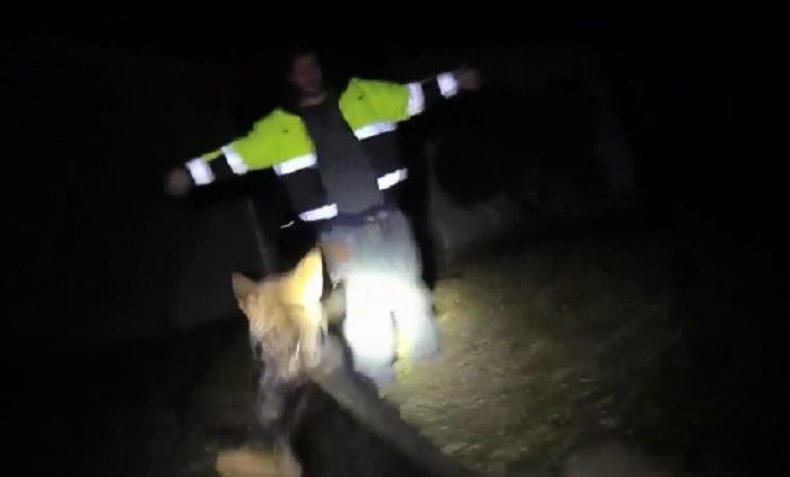 O'Malley was reportedly also banging on the windows of the house, demanding to be let in so he can sleep. When police arrived at the scene, O'Malley was still outside and banging on the windows.
Deputy David Fisher was with his K9 partner, Murphy, and the video shows Fisher warning O'Malley about his companion. "Don't rush at me…the dog will bite you if you come too close," the officer said while asking O'Malley to move away from the house.
Despite frequent warnings to stay back, with the officer having the pull the K9 away from the suspect, the dog eventually bit O'Malley's arm and pulled him to the ground.
In the ensuing tussle between O'Malley and Murphy, the suspect appears to try and choke and bite the dog. Fisher is heard screaming at the suspect, "Stop fighting my dog" before pulling the pair apart. Murphy was not injured during the struggle.
O'Malley was charged with two counts of disorderly conduct, one count of resisting arrest and one count of striking a police officer.