Video: Boy Falls Through Balcony and Is Left Dangling by His Head
A four-year old boy had a miraculous escape in Taiwan after being left dangling from a fifth-story balcony on Saturday morning.
In the end, it was only the size of his head that saved the child, who was eventually rescued from near-certain death after a half-hour ordeal, Taiwan's TVBS News reported.
The child had been left home alone by his parents in their apartment in Pingtung City, around 180 miles south of the capital Taipei. While playing, the boy apparently found his way out onto the apartment balcony and slipped through the 4-to-8 inch-wide security grille.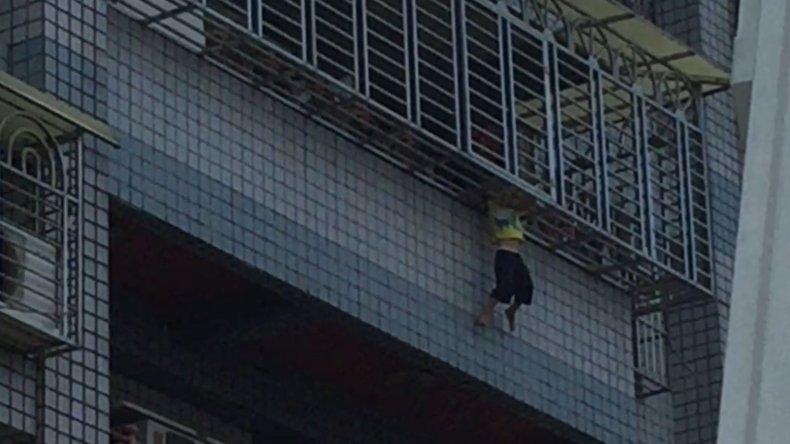 Luckily, his head wedged between the bars, leaving him dangling far above the street below. A video recorded by a shocked neighbor showed the boy attempting to hold on to the balcony and keep the weight off his head. Neighbors could see that the boy was tiring quickly, and rushed to gather a tarp or anything else that might help break his fall.
Neighbors called police, who rushed to the scene. Firefighters were unable to enter the apartment because it was barricaded from the inside. As such, rescuers had to go to the next floor up to reach the dangling boy. Below, they set up rescue ladders and prepared to catch the boy in case he slipped.
A lone rescuer then abseiled down the outside of the building from the sixth floor. After around 30 minutes, the young daredevil was plucked to safety.
A doctor said the child suffered minor injuries to his head and ears. While surely unpleasant, those scrapes can be considered lucky compared to the alternative.
The boy's parents rushed to the hospital when they were informed of what had happened. The father explained that his son had opened the door to the balcony himself and wandered outside.
When questioned by police later, the parents said they left him the care of an "aunt." But when the boy woke up, the woman was nowhere to be found. Police said the parents had violated Taiwanese child welfare laws that prohibit leaving a child younger than 6 unaccompanied. They could face a fine of NT$3,000 ($98) to NT$15,000 if found guilty of negligence, and could also be required to attend four hours of parental education training.
Updated | This article has been updated to provide more information on the rescue.