Brett Kavanaugh vehemently denied the claims made by Christine Blasey Ford in her testimony in front of the Senate Judiciary Committee and accused the Democrats of using him to get revenge "on behalf of the Clintons."
"This whole two-week effort has been a calculated and orchestrated political hit, fueled with apparent pent-up anger about President Trump and the 2016 election, fear that has been unfairly stoked about judicial record, revenge on behalf of the Clintons," Kavanaugh said in his opening statement.
The judge also condemned the senators on the committee, stating that they have turned the confirmation hearing into a "national disgrace." He went on to add that the lawmakers have "replaced 'advice and consent' with 'search and destroy.'"
Kavanaugh said Democrats have been "in a frenzy" since his nomination by President Donald Trump in July. He accused them of looking for reasons to ruin his "good name" and reputation for weeks and are now relying on these accusations to sink his nomination.
He went on to accuse Democrats of seizing on the sexual assault allegations when they could not discredit him based on his merits and experience as a federal judge, despite Ford's wishes to remain confidential.
Kavanaugh continued, calling the behavior of Democratic members of the committee an "embarrassment." He pointed to statements made by prominent Democratic leaders, including Chuck Schumer, who he said have openly called him "evil" and threatened to go after him with "everything I got." Senator Cory Booker said in July that Kavanaugh's supporters were "complicit" in "evil."
The judge said that despite the partisan attacks on his confirmation, he will "never quit" and will not withdraw his nomination for the Supreme Court.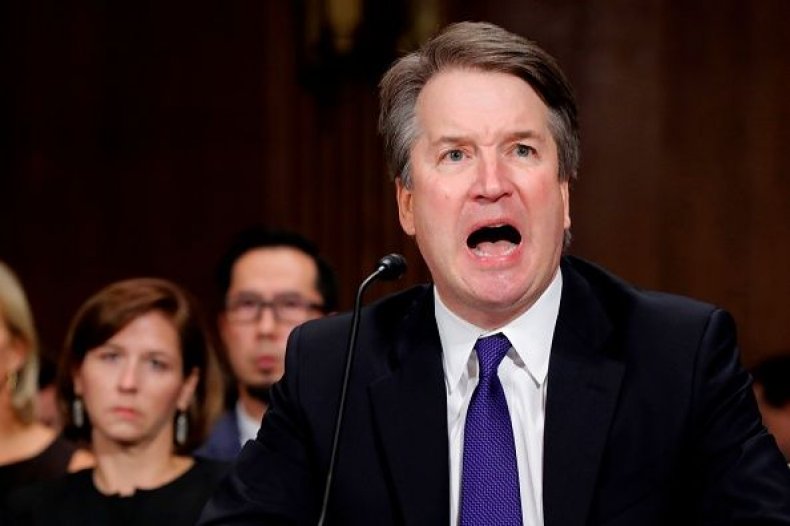 Throughout his opening statement, the judge teared up multiple times, primarily when he talked about his daughters and his father. He told the committee that his 10-year-old daughter asked to "pray for the woman," meaning Ford.
Ford has accused Kavanaugh of sexually assaulting her when they were both in high school. Ford testified in front of the committee that Kavanaugh pinned her down onto a bed and groped her, placing his hand over her mouth when she tried to scream.
Ford took a polygraph test, which showed the probability of deception to be 0.02. Kavanaugh has not taken a polygraph test. He claims he was never at the party where Ford claims the attack took place and has the calendars to prove it.
Kavanaugh admitted to drunken behavior in his high school days, telling the committee that "sometimes I had too many beers" and that some of his actions in the past now make him "cringe." But he said he never drank to the point of "blacking out" and that he has never committed sexual assault.
"You may defeat me in the final vote," Kavanaugh said. "But you will never get me to quit, never."