Video: Brett Kavanaugh Laughs Off Question About Getting in Trouble in High School
Supreme Court nominee Brett Kavanaugh has laughed off some seemingly softball questions from Sen. John Kennedy (R-LA) about getting into trouble when he was in high school.
On Monday, Kavanaugh denied that he had sexually assaulted Christine Blasey Ford while in high school after the now-professor detailed an incident that allegedly occurred 35 years ago. After the allegation came to light last week, CSPAN shared footage of Kavanaugh speaking about his high school experience during confirmation hearings last September.
In the clip, Kennedy engages Kavanaugh in conversation about his high school years, asking if he ever got "in trouble."
"I can tell from your testimony from the last three days, or two days, that high school were formative years for you. You went to Georgetown Preparatory School?" Kennedy said.
Kavanaugh replied: "I went to Georgetown Prep... It was very formative."
"What was it like for you? What were you like? Did you ever get in trouble? Were you more of a John Boy Walton-type or a Ferris Bueller-type?" Kennedy continued.
The two men then both laughed at the question before Kavanaugh responded: "I love sports, first and foremost. I worked hard at school. I have a lot of friends, I've talked a lot about my friends. They've been here. It was very formative."
"I played football and basketball," the judge continued. "My football coach was named Jim Fagan and he's a legendary football coach… I've been working out on weekends at my old high school, running on the track and ran into him out there. It was awesome. He still helps with the football team. He sent me a text three nights ago."
"That's all I'm going to get out of you isn't it? I understand," the senator said slyly, before revealing that he was thinking of asking Kavanaugh if "any of his underage running buddies have ever tried to sneak a few beers past Jesus."
"But I'm not going to go there," he added, prompting Kavanaugh to laugh.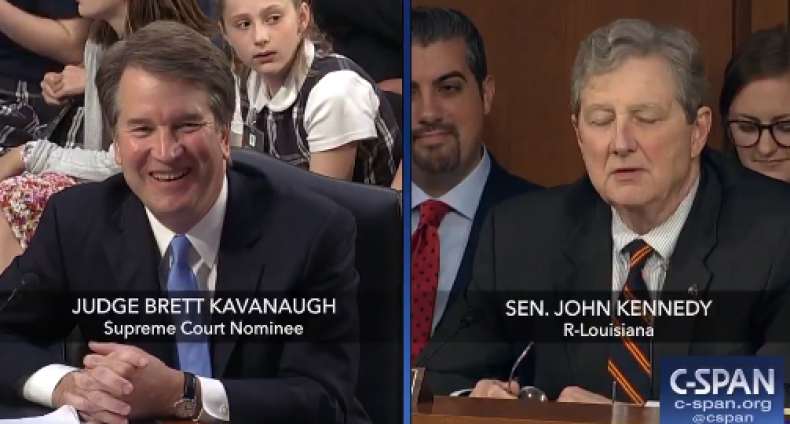 On Sunday, Ford, a 51-year-old research psychologist, claimed Kavanaugh sexually assaulted her when they were both high school students 35 years ago in Maryland.
Speaking to the Washington Post, she detailed how Kavanaugh and a friend, who were both "stumbling drunk" at the time, cornered her into a bedroom in Montgomery County one summer. Then, Kavanaugh allegedly held her down and groped her while grinding against her body.
"I thought he might inadvertently kill me," said Ford said. "He was trying to attack me and remove my clothing."
Kavanaugh denied the allegation on Monday, saying they were "completely false."
"I have never done anything like what the accuser describes—to her or to anyone," Kavanaugh said in a statement. "Because this never happened, I had no idea who was making the accusation until she identified herself yesterday. I am willing to talk to the Senate Judiciary Committee in any way the Committee deems appropriate to refute this false allegation, from 36 years ago, and defend my integrity."