Video: BTS Smashes 'Fortnite Dance Challenge' on Jimmy Fallon's 'The Tonight Show'
K-pop superstars BTS faced off against Jimmy Fallon in a hilarious "Fortnight dance challenge" during their much anticipated The Tonight Show appearance last night.
On Tuesday, Fallon opened his show by introducing BTS as "the biggest boy band on the planet," before the group's loyal fans in the audience—who refer to themselves as "the Army"—led a brief chant.
Fallon then aired a clip of himself and BTS, also known as Bangtan Boys, epicly imitating some of the iconic dance moves performed by the animated characters in "Fortnite," a popular video game, including the Electric Shuffle, The Robot and The Worm.
The members of the South Korean band—V, 22, Jungkook, 21, Jimin, 22, Suga, 25, Jin, 25, RM, 24, and J-Hope, 24—then schooled Fallon with some moves to their hit song "Idol" before the group settled into an interview, where they discussed their U.S. tour and recent speech at the United Nations.
"I was like so nervous," RM said about his address at the U.N. "I was holding up the paper and you could see my hands shaking."
When Fallon asked the band what their "message" was, RM fleshed out the meaning behind "speaking yourself."
"It's mainly about speaking yourself, like, instead of letting other people speak for you because to truly love ourselves it's important to firstly know who I am, and you know, where I'm from, and what my name is, what my voice is, kinda like that," he said.
Fallon then asked the group what their next steps are. "We want to stay humble and enjoy the ride," RM responded, before Suga revealed the group's hopes for the Grammys.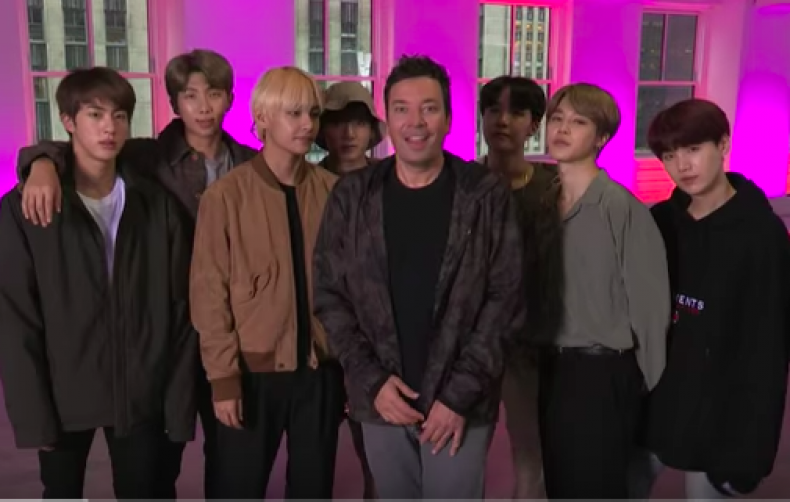 On Monday, BTS gave a three-minute speech at the U.N. for UNICEF's "Generation Unlimited" launch, reported CNN. The event marked the first time a K-pop group has given an address to the U.N.
The K-pop behemoths have previously fundraised and helped raise awareness for the U.N. Last year the group collaborated with the Korean Committee for UNICEF to create the "Love Myself" campaign, which advocates against violence among youth.
"Last November, BTS launched the 'Love Myself' campaign with UNICEF, building on our belief that 'true love first begins with loving myself'," Kim Nam Jun, the band's leader, said in a UN press statement.
"After releasing the 'Love Yourself' albums and launching the 'Love Myself' campaign," Kim added. "We started to hear remarkable stories from our fans all over the world, how our message helped them overcome their hardships in life and start loving themselves. These stories constantly remind us of our responsibility."
The band's appearance on Fallon will be followed, on Wednesday, with a highly-anticipated performance at Times Square. The show will be broadcast live on Good Morning America between 7-9 a.m. ET on ABC