Video Captures 3-Year-Old Ukrainian Refugee Overjoyed to See New Bedroom
A stirring video captured the moment a 3-year-old Ukrainian refugee saw her new bedroom in the United Kingdom.
Little Maria Hroshkova fled Ukraine with her mother Olha and grandmother Larysa, ending up in the village of Southowram in West Yorkshire, England. In a community Facebook group, Olha Hroshkova announced that the family had arrived through the U.K. Homes for Ukraine Scheme on April 26. The three were invited by hosts Anne-Marie and Simon Miles.
"They made a noble gesture by taking us into their own home," Hroshkova wrote on Facebook. "We feel like part of their family, because they are very caring and help us in absolutely everything."
Since Russia invaded Ukraine on February 24, over 5.5 million refugees have fled the country, according to the United Nations. British Prime Minister Boris Johnson announced in March that more than 200,000 Ukrainians could be eligible to enter the U.K.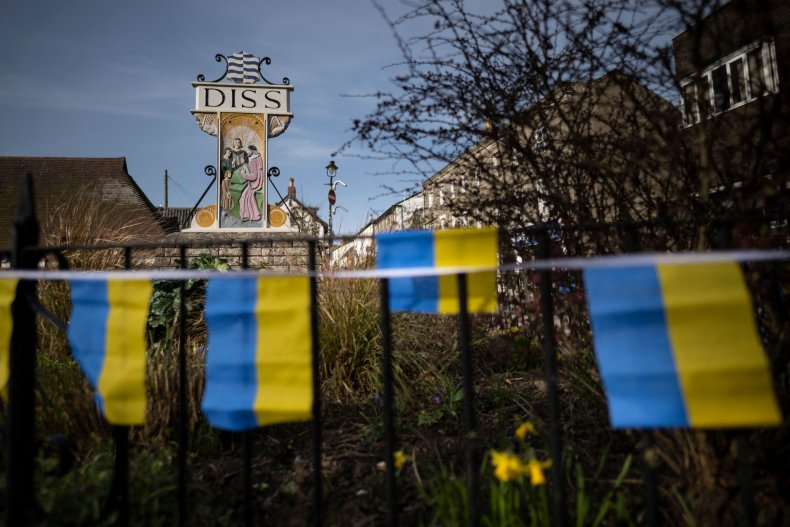 The toddler, mother and grandmother were "exhausted and emotionally broken," Hroshkova said, after spending their nights in nine different places since war broke out.
So when Maria saw her new bedroom in Southowram, she was visibly delighted. Video from ITV captured the 3-year-old lighting up and babbling to her mom as she walked into the room prepared by her host family. Her colorful bedding was covered with cartoon animals, flowers and hearts. Atop the bed, toys and stuffed animals also lay waiting for her. Many of those gifts were donated by neighbors, along with clothes, bathroom items and other essentials, Hroshkova said.
"Now she can sleep after all this," said the mother.
Host Anne-Marie Miles told ITV that she was eager to welcome Ukrainian refugees. She had her own experience with isolation in wartime—her husband Simon served 24 years in the British Army.
"I was an Army wife when my husband was fighting in the wars and where would I have gone?" she asked the British network.
At the end of Hroshkova's Facebook post, she said that she hoped to find friends for her daughter, who was "very sad without children's company."
Responses poured in from parents in the community.
"If you head to the park at school finishing time there will be lots of children waiting to play with your little one and the mums would be lovely with you too," wrote Maxine Swift.
"My daughter is almost 4 years old and would be happy to have a play date with Maria," added Steph Green.
Newsweek reached out to Olha Hroshkova and Anne-Marie Miles for comment.