Video Captures Colorado Police Using Battering Ram to Free Child's Head From Railing
A new video posted to social media by the Boulder Police Department in Colorado shows two officers getting creative to free a toddler who had gotten her head stuck between two railings at an outdoors complex.
In the video, Boulder Police Sgt. Michael Marquez can be heard telling the girl to keep her head low as he and another officer attempt to pry the bars apart. Marquez then places a battering ram above her head and uses it to push the bars far enough apart that she can break free.
The officers tell the little girl to move her head upwards, where the bars are slightly spread open.
"There you go, there you go. You got it, you got it," Officer Jordan Kyle assures her.
The toddler is then able to pull her head free from the railing as the officers and the girl's mother cheer. As the officers leave the scene, the toddler and her mother can be heard thanking them for their work.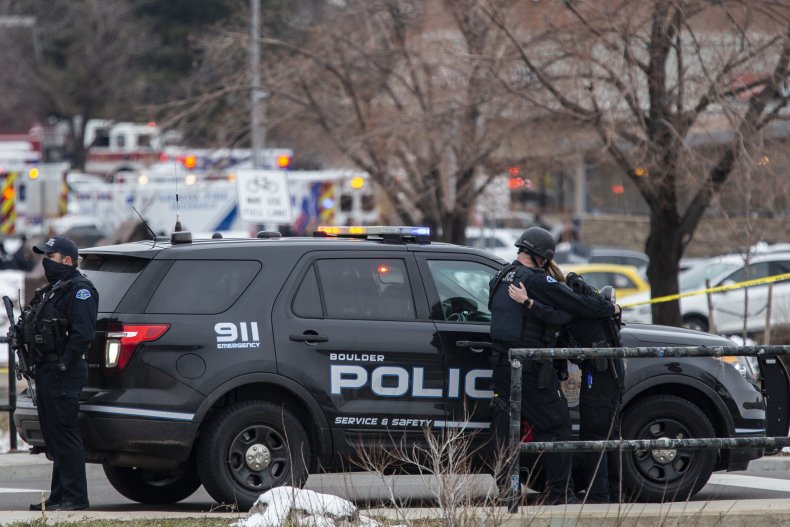 "As kids, we've all done things that seem like a good idea but that we come to regret. That was the situation here where this toddler accidentally got her head stuck. Thankfully Sgt Marquez & Officer Kyle found a quick & clever way to safely free her. Shared with mom's OK," the Boulder Police Department wrote in a tweet.
The child's mother, who declined to share her name, told news station KDVR in Denver that, "I was quite scared, my stomach was in my throat, but I knew I had to be calm and let her know there was nothing to be scared of. It would be taken care of."
"The officers were amazing actually," she added. "They gave her stickers and a badge to make her feel special. I'm just really glad they were able to put us at so much ease, my daughter especially. I mean they were great with her."
Marquez told KDVR that he was just a few blocks away when he received the call about the toddler.
"I could see she was panicking and it looked like her family and other people around her were stressed out and panicking. I decided I wanted to help," Marquez said. "I think it just comes with experience on the job because if you're spun up showing you're nervous or panicking, that might make them panic even more. Remaining calm is important. It just melted my heart. It was a great day. It felt good to help her, help her family, people around her were having a tough time, we were making it better for them."
The Boulder Police Department directed Newsweek to the tweet and the remarks Marquez made to KDVR after reaching out for comment.