Video Captures Confrontation After Brooklyn Synagogue Stabbing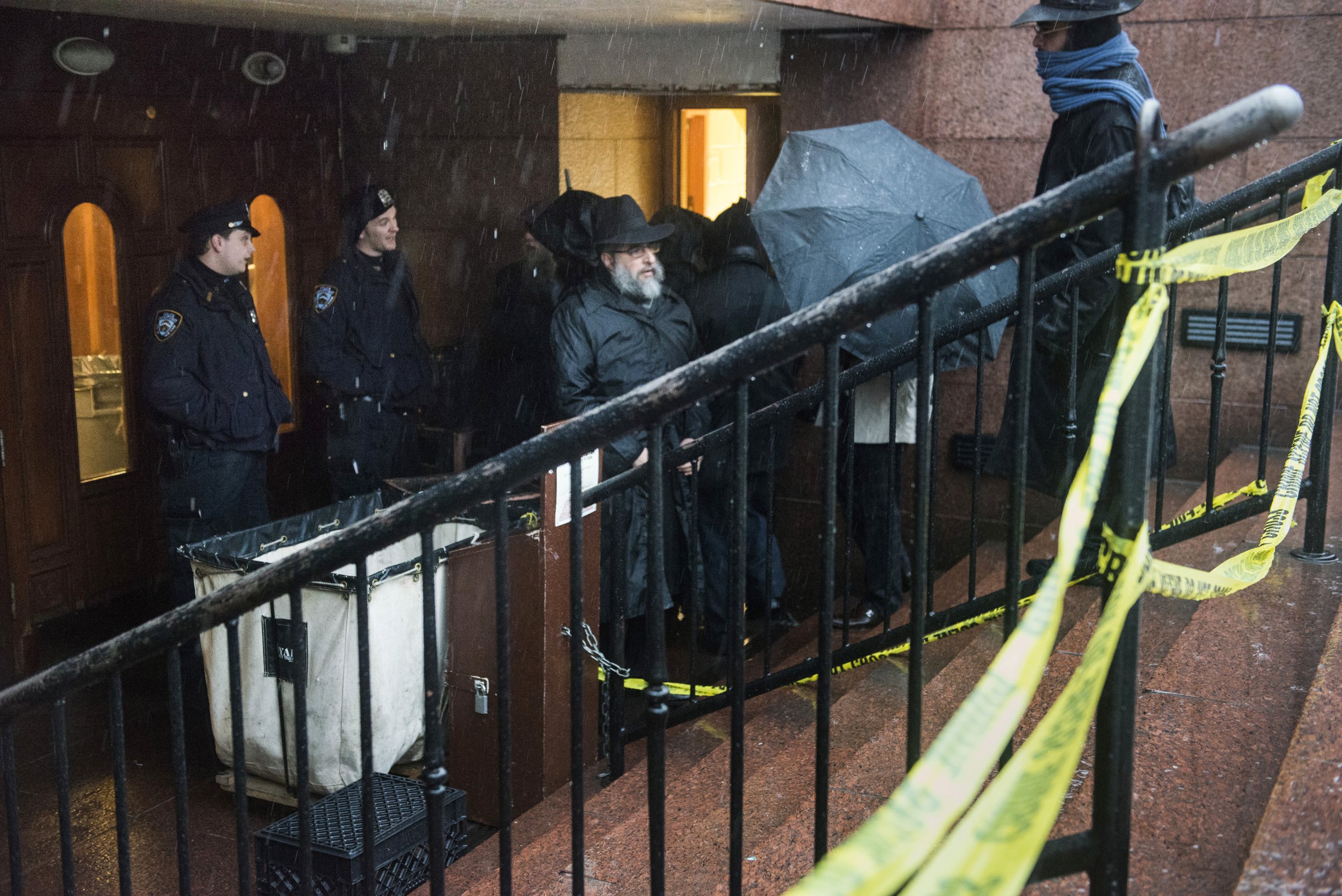 A video released Tuesday morning depicts a confrontation between police and an assailant who had just stabbed a 22-year-old Israeli student inside a Brooklyn synagogue.
It is unclear who recorded the video, which shows the assailant, identified as Calvin Peters, 49, talking to police, brandishing a knife and moving around the basement of the Chabad Lubavitch World Headquarters as police yell order to drop his weapon, before being shot and handcuffed.
The shaky video was first posted on Israeli news site 0404 and was later referenced by several outlets.
Levi Rosenblat was stabbed in the head at the religious center at approximately 1:40 a.m. Tuesday morning, in the Crown Heights neighborhood of Brooklyn. Rosenblat had arrived in New York two weeks ago, and was studying in the synagogue with others present when Peters entered, according to spokesman Rabbi Motti Seligson.
The headquarters building of the Jewish movement and organization is open to the public around the clock.
In a statement on Lubavitch's website, Rabbi Yehuda Krinsky, director at Chabad Lubavitch World Headquarters and a leader of the Chabad movement, called the events "deeply disturbing." He described the synagogue as "a place of study and worship, a sanctuary of outreach and love."
"We are working closely with the authorities in their ongoing investigation," Krinsky said. "We pray for the quick recovery of the wounded student, the safety of the Jewish people here, in Israel and wherever they are."
Police arrived on the scene after a witness found a nearby patrol officer, who came to the synagogue to confront Peters.
On the video:
Peters is shown setting down his knife on a table in response to orders from police, and stepping toward a wall a few feet away.
"Step away… Hands up," says an officer, pointing to the wall. The officer is shown standing beside a wooden shelf stacked with heavy volumes, and holstering his gun as chatter sounds from his radio.
Peters then reaches again for the nine-inch knife with a 4.5 inch blade, as voices in the background shout, "Whoa whoa whoa." Peters makes as if to lunge toward the officer, who had redrawn his gun and trained it on Peters.
"Drop the fucking knife! Drop the fucking knife!" police shout as Peters moves about unpredictably, the video panning jerkily around the room, capturing the long wooden tables strewn with books and papers and glimpses of men in the room in addition to the police officers. The holder of the camera moves back behind some furniture and a single shot sounds.
The police and Peters are out of the frame at the moment of the shooting, but come back into view after Peters has fallen to the floor. Police then approach and handcuff him. He was pronounced dead at Kings County Hospital at 3:15 a.m.
Chaim Grossbaum, a yeshiva student who was present when the attack occurred, described Rosenblat's injuries to DNAinfo. "The left side of [his] face was all cut up and bloody. He was screaming," Grossbaum said. "He was conscious, but I don't think he realized how badly he was hurt."
Grossbaum helped Rosenblat outside to an ambulance. The student was also taken to Kings County Hospital, where he was in stable condition Tuesday morning, the New York Daily News reports.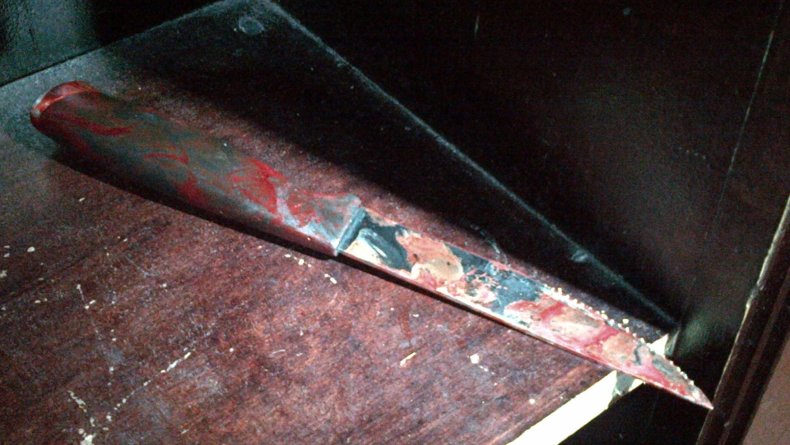 "Thank God [Peters] didn't do more damage to more people," New York State Assemblyman Dov Hikind, D-Brooklyn, told the Daily News. "While we don't have a precise motive yet in last night's contemptible attack, one thing is clear—we need greater security for our Jewish institutions."
Some witnesses reported that Peters yelled "Kill the Jews!" or "I want to kill the Jew!" but Pat Conroy, chief of the NYPD's Brooklyn Detective Squad, told the Daily News that his exact words had not been confirmed.
"At this point…he may have said words to the effect of 'I will kill all of you,' or words to that effect," Conroy said. "We're still interviewing witnesses at this point."
Statements to this effect were not captured in the video, which commences after the stabbing as police confront Peters.
The Associated Press reports that Peters, who lives in Valley Stream, New York, on Long Island, had a history of bipolar disorder and had been arrested 19 times since 1982. His last arrest before the incident Tuesday was in 2006 for drugs.
"Calvin Peters was a loving and devoted father," Jeffrey A. St. Clair, an attorney at the Peters home in Valley Stream, told the AP. "And the family is quite frankly shocked and disappointed at what happened. Our prayers go out to the person that was injured."
Though detectives did not suspect the attack was an act of terror, police will nevertheless increase its presence at places of worship in New York City on Tuesday, DNAinfo reports.
"While we are very pained by everything that has unfolded, we are very grateful to the police for their quick response," Seligson said in a written statement. "We continue to pray for the young man who is in stable condition."