Video: Police Officers Kick In Windshield and Pull 73-Year-Old Man From Burning Car
An elderley man was saved from the wreckage of his car moments before it burst into flames by three men who smashed the windshield and dragged him to safety.
Police had been called to the scene of a crash in the town of Gympie, north of Brisbane, Australia, and arrived to find a vehicle on its side and smoke pouring from the engine.
Senior Constable Kevin Mayo and Constable Jeremy Gardiol soon realized that the driver was still trapped inside.
"There was a heap of smoke, it was imminent that it was going to burst into flames at any time," Senior Sergeant Davey told Australian broadcaster ABC, after the incident on Wednesday. "The crew had to use their batons to actually get through it and were forced to kick it."
Related: Woman arrested after using tracking and recording device in husband's car "for months" to see if he is cheating
The officers smashed through the car's windscreen with their clubs but soon had to resort to stomping it with their feet to reach the driver. With the help of a passerby, the police duo grabbed the man inside—a 73-year-old driver and sole occupant of the vehicle—pulling him to safety across the street.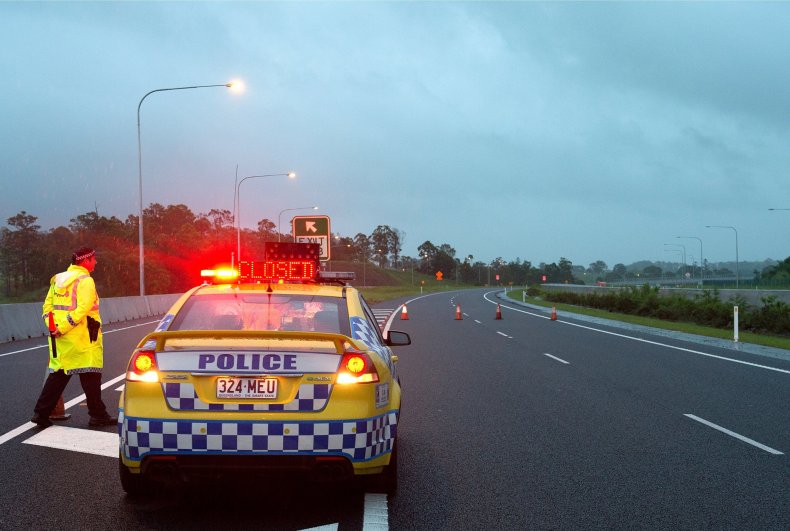 The man was able to walk shortly afterwards but checked into Gympie Hospital with minor head injuries, while one of the officers sustained a cut on his hand. Fire extinguishers arrived on the scene to put out the mounting blaze, as the officers' superior declared the force was "exceptionally proud" of their rescue effort.
"They're both exceptional officers and they've displayed exceptional bravery today," Davey said, also praising the "very brave" member of the public who helped the officers. "It's not a situation you want to be confronted with, but they didn't shy away from it."
After the incident one of the two officers visited the driver in hospital and told reporters that he "had a few bumps and bruises" but was recovering. Asked if he feared for his own life, Gardiol told local newspaper The Courier-Mail told: "You can't think about that, you just have to get to the person in the car."
"(Dying) does go through your mind mind but it's not until afterwards that you realise the risk. I don't have kids but if I did I imagine they would have been playing on my mind," he said. "It's only now that I'm realising that we probably saved his life."