Video Captures Heroic Mother Shielding Child From Collapse of Massive Tree
A new video captured the moment when a heroic mother shielded her child from a massive tree collapsing in China.
The video was posted to Twitter by the state-run newspaper, the People's Daily. According to the tweet, the video was captured in Guangdong, a province on the coast of Southeast China. The People's Daily also posted the video to its YouTube account.
"A mother's instinct! Heart-stopping moment was captured when a huge old tree collapsed, almost crushing down on a passer-by and her kid in S China's Guangdong. The woman protected the child in her arms when the incident happened," the People's Daily wrote as a caption to the video.
As the video begins, a woman and a child can be seen walking through what appears to be an alleyway toward a fence.
As the mother and child are walking, a slight crack in the tree can be heard and the tree is then seen falling closely behind the two. After hearing the loud crack from the tree, the mother turns around and quickly notices that it is about to fall and hit them.
The falling tree just misses hitting the mother, who is seen in the video first grabbing the child, then picking up the child and moving quickly toward the fenced area. The mother's back is to the tree as she is seen shielding the child from it collapsing.
The video also shows a closer view of the mother as she runs away from the falling tree, covering her eyes from falling debris and using her own body to protect the child.
The mother does not appear to be hit by the collapsing tree, but several branches and leaves fall close to her as she is running away. As the video ends, the mother can be seen moving through the fenced area safely.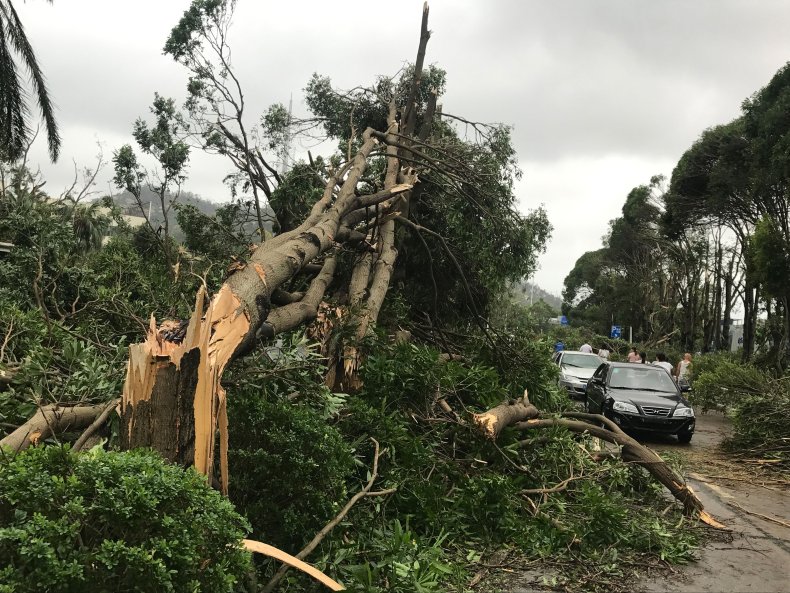 While it is unclear what caused the tree to collapse, the tweet from the People's Daily notes that it is a "huge old tree."
The video was posted by the People's Daily on Friday, but it is unclear exactly when the incident took place. Newsweek reached out to the People's Daily for further information on when the video took place but did not receive a response in time for publication.
A somewhat similar situation occurred in mid-March when a viral video showed a Chinese mother saving her baby from falling on his head in Guangdong province.
In the video, which was captured on CCTV footage, the mother can be seen changing her son's diaper but becomes distracted and her son almost slides off of a bench. The mother quickly reacts and grabs her falling son before he hits the floor.