Video Captures Hikers Frantically Running From Charging Grizzly Bear
A new video shows hikers in Glacier National Park in Montana frantically running away from a grizzly bear that appears to be charging at them.
As the video begins, a grizzly bear can be seen walking down a hiking trail but soon starts to speed up and run. At that point, the person filming can be heard yelling "back up, back up" as the hikers below yell and scream.
"They shouldn't run," another person behind the camera says. "Don't run!"
As the bear moves closer, the group of hikers can be seen running up another trail and dispersing, while another person can be heard telling them not to run.
After the group of hikers is able to run away, the bear can be seen walking off the trail, heading in the opposite direction.
"You're good, you're good," the person filming the video says.
According to NBC Montana, the video was posted to Facebook by Dulé Krivdich and shared across social media. In the post, Krivdich wrote, "Be bear aware, folks" before describing the situation he had filmed.
"I'd say a 500+ pound Grizzly came through a treeline, down a meadow and swiftly on to the trail itself to get to wherever he wanted to go," he wrote. "Now hikers just below on the same trail are totally unaware of what's heading their way as we from above start yelling that there is a bear barreling down the same trail. As one yells back "what do we do?"
According to the post, Krivdic told the hikers to start making a lot of noise and not to run. "But just then, the grizz made a bluff charge and we saw people booking it like we've never ever seen before in our lives. Even in the Olympics."
Newsweek reached out to Krivdic for comment but did not receive a response in time for publication.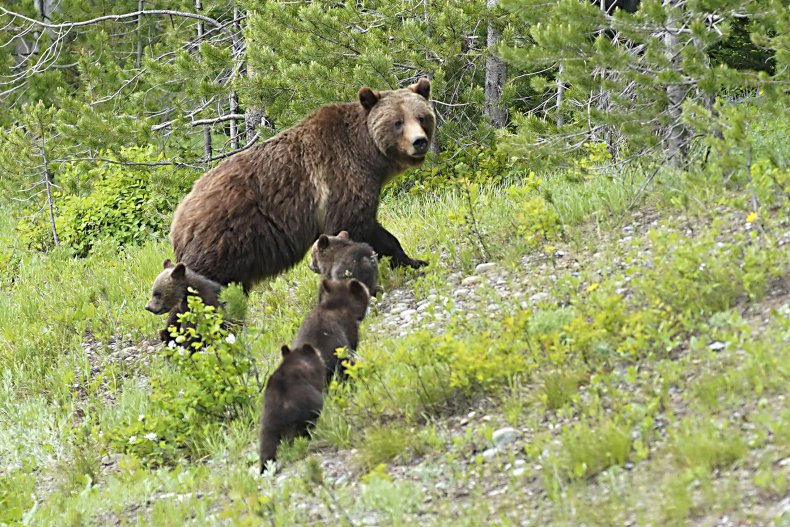 While the hikers were able to avoid direct contact with the grizzly, the park's website encourages hikers not to run and instead "back away slowly, but stop if it seems to agitate the bear."
The website lists several other recommended responses when encountering a bear in the wild, which include hiking in groups, making noise and carrying bear pepper spray.
The website also tells hikers that "if a bear or other animal is moving in your direction on a trail, get out of its way and let it pass," as well as assuming a nonthreatening posture.
Newsweek was directed to the bear safety page on the Glacier National Park's website after reaching out for comment.