Several people, including a pregnant woman, were injured after a ski lift malfunctioned and violently threw people from its chairs.
Terrifying footage emerged showing skiers flying through the air at the Gudauri ski resort in the Greater Caucasus Mountain Range in northern Georgia.
The clip shows the chairs coming down the hillside much faster than their normal speed, causing some users to be hurled off as the chairs are forced into a violent U-turn at the bottom.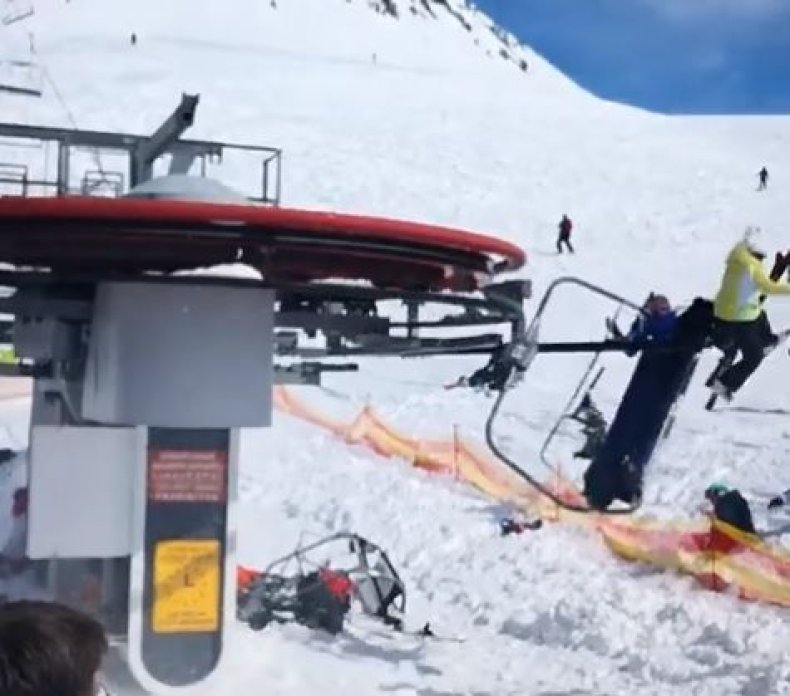 Onlookers can be heard shouting at those coming down on the lift to jump off before it reached the bottom so they might avoid injury.
In the ensuing panic, several skiers do jump off the chairs as they are coming down the hill. One person who failed to get off is slammed into the side of the lift support as the chair turns the corner.
Footage of the malfunction, posted by Knyshov Peter onto Facebook, has been viewed more than 200,000 times.
According to the Georgian news site Agenda, health minister David Sergeenko confirmed there were at least eight people injured following the lift malfunction, with no one believed to have been seriously hurt.
"Among the injured are Swedish and Ukrainian citizens," said Sergeenko. "Only two cases need to be monitored. One of the injured, a Ukrainian citizen, broke his hand during the incident, and has a small head injury, while a Swedish citizen is pregnant and feels pain in her waist."
The Ukrainian and the pregnant Swedish woman were sent to Georgia's capital, Tblisi, for treatment.
An investigation is under way to determine what went wrong with the ski lift.
A spokesperson for the Doppelmayr Garaventa group, the ski lift producer, told The Telegraph it did not yet know what caused the incident.
"Our employees are already on their way to Gudauri," the spokesperson said. "At the moment we have no detailed information."