Video Captures Man Smashing Windshield Using Baseball Bat During Road Rage Incident
A man with a baseball bat smashed the window of a father's truck Friday in an apparent road rage incident on the Staten Island Expressway, video shows.
The 39-year-old dad and his two children were heading to New Jersey to celebrate Father's Day weekend together when the incident occurred.
The father, who asked local news not to be identified, said he was driving in the slow lane on the expressway near Clove Road when two cars tried to pass him on the shoulder.
One of the cars side-swiped the father's truck in an attempt to dodge a traffic cone on the shoulder, NBC4 reported Tuesday,
All three drivers pulled over to see if there was any damage to the vehicles. The father reported that the collision caused damage to his front bumper, said police.
"I exited my truck to check the damage and had him jump in my face blaming me for the damage," the father wrote about the other driver in his Facebook post. "While I stood there and told him to back the f*** off me and that I have kids in the truck and I'm not doing this, his friends also exited the second vehicle and came at me as well."
After the father told the man who blamed him that he had his two children in the car, the man walked back to his vehicle and grabbed the bat, NBC4 reported.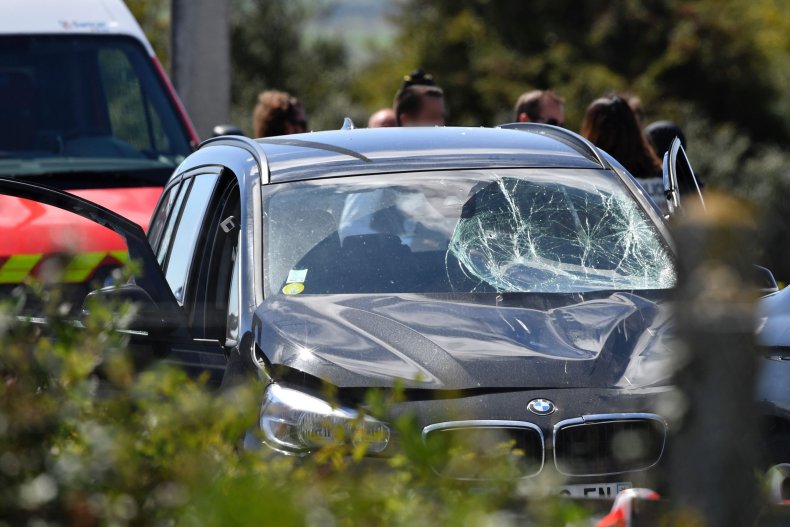 The father posted a video that he recorded on his cellphone of the alleged road rage incident. It shows the other driver standing on the passenger side of the truck's hood while was wielding a black baseball bat. He starts hitting the headlights and the hood of the truck before finally smashing the windshield, according to the footage.
The father reported that the man was yelling threatening remarks at him as he smashed up the front of the truck, police said.
An 11-year-old child in the backseat of the truck can be heard in the video saying "he's going to hit us," right before the bat comes down on the windshield.
"No, stop. I'm scared," the child says in the clip. The father reassures his child that they were going to be alright, as the man with the bat runs back towards his car and gets in.
Both of the cars that tried to pass the father's truck on the shoulder then took off, said police.
"That's an individual looking for trouble," the father told NBC4. "I fear that this individual could do it to somebody else."
No one was physically hurt in the accident, and no arrests have been made, police said.