Video Captures Moment An Arsonist Set Fire to a Family's Home, Second Attack In Two Weeks
Video captured by a family's doorbell camera shows the moment an arsonist covers the family's porch in a flammable liquid and ignites a large fire.
The video captured at 4:35 a.m. on Wednesday morning shows a hooded man walking up the stairs onto the family's porch. The video then shows him dousing the porch with a flammable liquid and using a lighter to ignite a fire.
He then leans down to adjust the flame and quickly runs away as the fire erupts. The footage shows a large burst of fire as the flame starts hitting the camera on the wall.
Authorities are asking the public for any information that might help them identify the person responsible for the arson.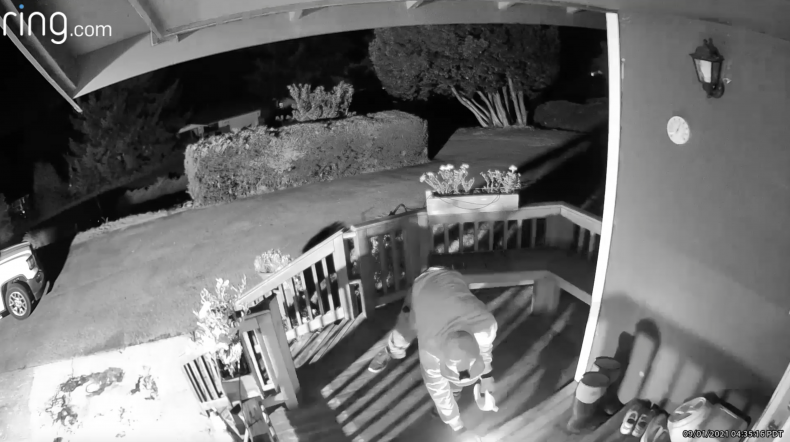 The family safely evacuated the house through the backyard as first responders arrived, according to the police. The incident occurred in Enumclaw, a small town in Washington State.
This was the second fire set on the property in less than two weeks, according to police. On August 19, the family's car was set on fire in an incident that is still under investigation.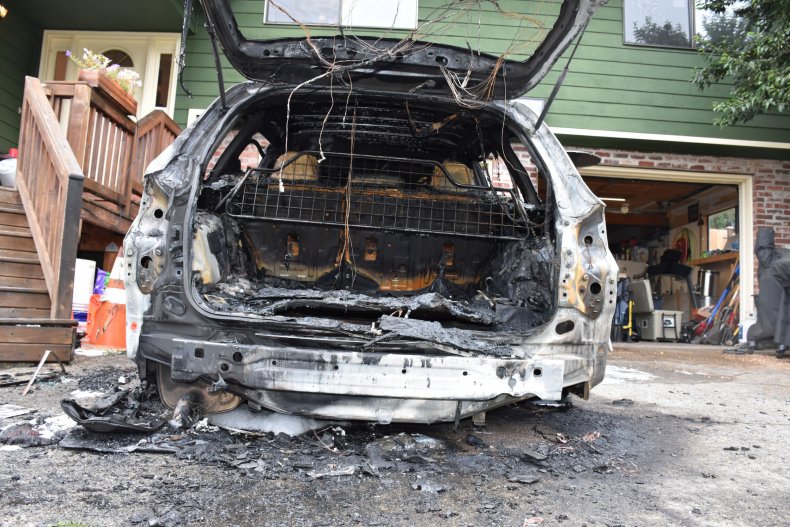 "That area is a very safe community," Tim Meyer, a sergeant of the King County Sheriff's Office, told Newsweek. "One is not a pattern, but two we start to pause and see something there...to see arson in the same spot within a couple of weeks, that to us is certainly indicative that it is targeted."
The majority of arsons take place at residential homes by unknown offenders, according to the Federal Bureau of Investigation crime data. However, the number of arsons reported in the US each year has been trending downward since 2016. It is estimated that around 26 percent of arson cases are cleared, leaving 74 percent unsolved in the United States.
"Certainly we're going to let the evidence tell the story," Meyer told Newsweek. "But we think it's obviously highly coincidental that someone would be the victim in just two weeks of two separate arson events. The likelihood that they're related is certainly at the forefront of the mind of investigators, I think rightfully so."
Deputies released the security camera footage on their Facebook page yesterday. "Let's get this person off the street and behind bars before anyone gets hurt," the post reads. Police ask anyone with information to call the King County Sheriff's Office non-emergency number 202-296-3311 and reference case C21027456. Anonymous tips can also be shared using the P3Tips app on a smartphone.
"The suspect remains outstanding," Meyer told Newsweek. "So we're really hoping to generate some community interest to get that felon identified." Authorities are working with Crime Stoppers of Puget Sound and are offering a cash reward of up to $1000 for any tips.