Video Captures Moment Officer Fractures Infant's Skull During Suspect Chase
Video released on Sunday showed that moment when a police officer accidentally fractured an infant's skull while pursuing a suspect.
The 10-month-old boy was being held in the arms of the suspect, his father, being pursued by Los Angeles police, who claim they were completely unaware of the child. Eventually, one unnamed officer tackled the suspect to the ground, after which he heard the boy begin to cry. Officials say that the child suffered a "small" skull fracture as a result.
The incident in the footage occurred on February 11 after a vehicle crashed into a flatbed truck around 11:30 p.m. A team of gang enforcement officers with the Los Angeles Police Department (LAPD) were nearby conducting a traffic stop when the crash happened, Captain Stacy Spell said in a statement.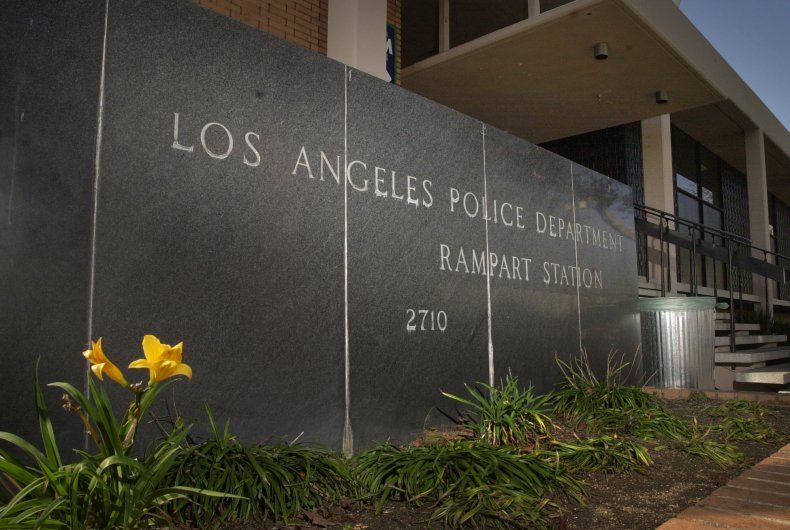 The driver of the vehicle, Josue Huerta, 25, drove off from the scene as the officers approached, beginning an 11-minute chase. After the chase, Huerta exited his car and fled on foot through a park, where he and the boy were tackled to the ground.
"I got him. I got him. I got him," one officer can be heard shouting in the video, adding "Stop, police, stop," before tackling Huerta.
"I'm sorry but I'm trying to take him home," Huerta is heard saying as his son begins to cry.
"You kidding me?" an officer is heard saying after realizing Huerta had a child with him.
Spell confirmed that Huerta now faces felony charges of child abuse, evading, and possession of narcotics for sale, as well as a misdemeanor charge of hit and run. Drugs, cash, and 9mm ammunition was found in Huerta's vehicle.
His son was taken to a hospital following the incident, where he was diagnosed with a fracture on the right side of his skull. He also later tested positive for both fentanyl and cocaine. Authorities released him to the care of his mother.
Spell said that the LAPD is investigating how precisely the child sustained his injury, noting that he was also present during the flatbed crash with his father. The department is not at this time ruling out the possibility that the officer's use of force was the cause.
Newsweek reached out to the LAPD for a comment or update on this story but did not immediately hear back.
A significant portion of LAPD officers utilize body cameras while on patrol. By late 2020, over 7,000 officers were reportedly outfitted with the technology, according to Los Angeles Daily News, with requests being made at the time for around 2,600 more.
In summer 2021, however, a report found that roughly one-fifth of LAPD officers were slow to turn on their cameras in use-of-force cases.