Video Captures Zelensky's Reaction to Babyn Yar Being Bombed
Ukrainian President Volodymyr Zelensky was speaking to a British Channel 4 reporter about his family on Tuesday when Andriy Yermak, his chief of staff, interrupted. The moment was caught on camera and shared by the news channel on Twitter.
"We'd like to inform [you] that now it's [Russia] bombing Babyn Yar," Yermak said in the clip.
Babyn Yar is a ravine in the Ukrainian capital of Kyiv that became Europe's largest mass grave of the Holocaust. During a 48-hour period in September 1941, the Nazis shot 34,000 Jews to their deaths there. It was the first time that virtually all the Jewish residents of a European city were killed. In total, it is estimated that the Nazis murdered 100,000 Jews and non-Jews at Babyn Yar. The Soviet Union erected a monument to Soviet citizens shot there in 1976, and the Ukrainian government has developed separate memorials to the murdered Jews since then.
"Now Babyn Yar?" Zelensky repeated in disbelief.
"Yes," Yermak said, turning to the reporter: "Yes, the memorial. They started building it after 80 years of this tragedy [the Holocaust]."
"That is Russia," Zelensky said before leaving the room. "My congratulations."
Zelensky is Jewish and lost family members in the Holocaust, including three great-uncles. In a 2020 interview with The Times of Israel, he said that he grew up in an "ordinary Soviet Jewish family." He added, "Most Jewish families in the Soviet Union were not religious. You know religion didn't exist in the Soviet state as such."
Five civilians died in the Russian missile strike Tuesday, which targeted a TV tower built on part of the land where the Babyn Yar massacre occurred. The TV tower stood 3,000 feet from an old memorial to the dead and some 400 feet from a new memorial that opened last year, according to Israeli journalist Ron Ben-Yishai with Ynet, who visited the site on Wednesday.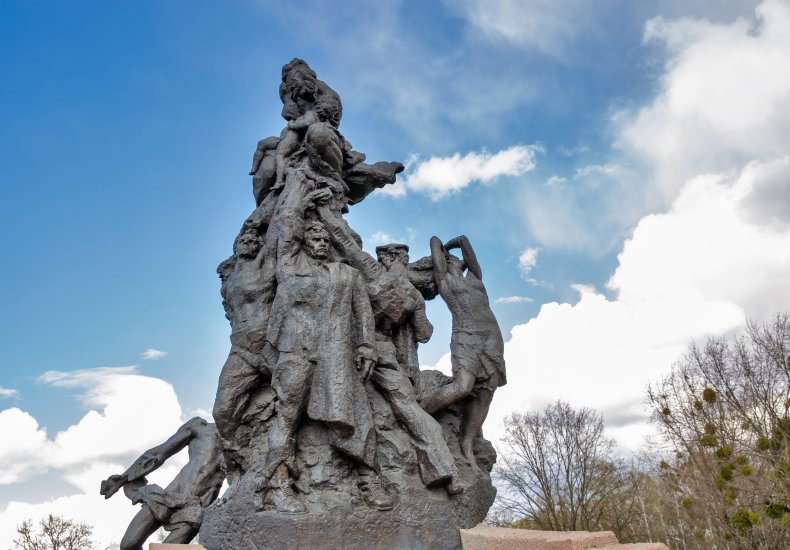 Verified videos show that three aircraft-launched missiles landed on the compound surrounding the communications tower. Fire damaged a museum building that was not yet in use, as well as trees across the site, according to the BBC. The Ukrainian government also reported that surrounding Jewish graves were damaged.
Zelensky tweeted after the attack: "To the world: what is the point of saying "never again" for 80 years, if the world stays silent when a bomb drops on the same site of Babyn Yar? At least 5 killed. History repeating."
Jewish communities around the world were also quick to contrast the bombing with Russian President Vladimir Putin's baseless assertion that he invaded Ukraine to "denazify" the country. Although there are far-right paramilitary groups in Ukraine, they have little support, and Putin's rhetorical justifications have aimed to discredit Zelensky and Ukrainian sovereignty.
For live updates on the Russian invasion of Ukraine, visit our live blog.