Video Capturing Street Harassment in NYC Sparks Debate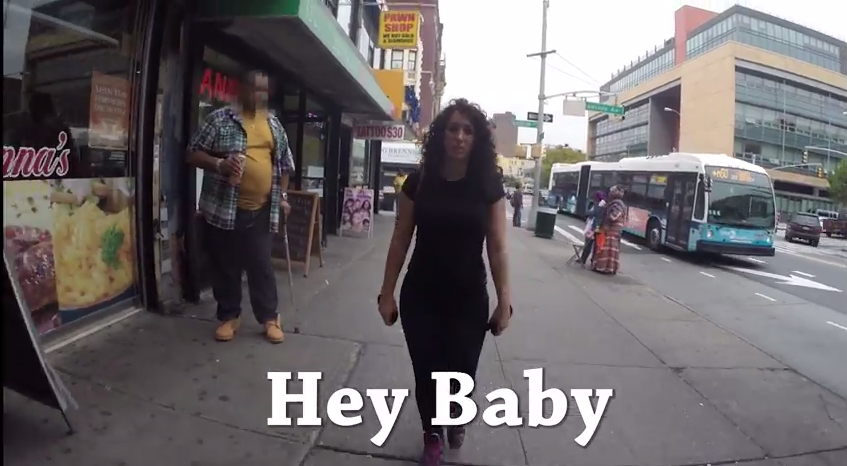 Updated | A recording of one woman's walk through New York City and the catcalls that ensued has turned into a viral sensation, drawing praise as well as criticism for its message and methods.
Shoshana Roberts spent a recent summer day wandering around the streets of Manhattan—from Lower Manhattan to Midtown and up to Harlem—wearing jeans and a black crewneck T-shirt. According to text at the start and end of the video, Roberts endured more than a hundred catcalls in the 10 hours she was out, captured by a camera hidden in filmmaker Rob Bliss's backpack as he walked a few steps ahead.
Bliss, who makes viral videos for a living, tells Newsweek he wanted to capture street harassment taking place and give viewers a sense of what it's like to be a woman experiencing it. He says he reached out to the New York-based Hollaback!, an organization that aims to end street harassment, to gain insight from the group's expertise, and to help fund the project.
The comments included "Smile!," "Hi, beautiful," and "How you doing?" as well as "Damn!," "Hey, baby," and "You should say thank you more." One man walked silently alongside Roberts for at least five minutes as she nervously flicked her eyes toward him.
The footage—edited down to a two-minute snapshot of Roberts's day—was posted on YouTube Tuesday and has gotten more than 5 million views as of Wednesday morning.
Roberts, who participated in the video as a volunteer for Hollaback!, says the video encapsulates the harassment she endures on a daily basis.
"I'm harassed when I smile, and I'm harassed when I don't," Roberts told NBC. "Not a day goes by when I don't experience this."
The video has been praised for boiling down the street harassment problem into a two-minute lesson.
It has also spurred online criticism, particularly for its portrayal of Roberts being harassed by primarily black men.
Ayesha Siddiqi, editor-in-chief of The New Inquiry, an online publication that focuses on culture and politics, took issue with the video in a series of tweets:
Bliss tells Newsweek the criticism around race is "distracting from the real issue," since people from all backgrounds participated in street harassment the day he and Roberts walked around Manhattan. The published video, he says, includes only a small sample of the day's catcalls, many of which didn't make the cut because of poor audio or picture quality (for example if a siren or traffic drowned out the comments or if someone was standing between Roberts and the camera).
Others on social media have supported the video and spoken out about threats Roberts has already received, less than 24 hours after it was published.
"The rape threats indicate that we are hitting a nerve," Hollaback Director Emily May told Newsday. "We want to do more than just hit a nerve, though. We want New Yorkers to realize—once and for all—that street harassment isn't OK, and that as a city we refuse to tolerate it."