Clip of Cara Delevingne Pretending To Lick Azealia Banks' Leg Resurfaces
A clip of Cara Delevingne writhing around Azealia Banks with her tongue out during a stage performance in October of last year has resurfaced online.
In the video, Banks, 30, was seen performing her hit track "212" at The Real Housewives of New York City star Leah McSweeney's Halloween party as Delevingne, 29, pretended to lick the entire length of the rapper's body.
With Banks delivering the closing lines of her song at New York City hotspot The Box, Delevingne was seen on her knees with her tongue out, playfully working her way up until she was standing alongside the musician.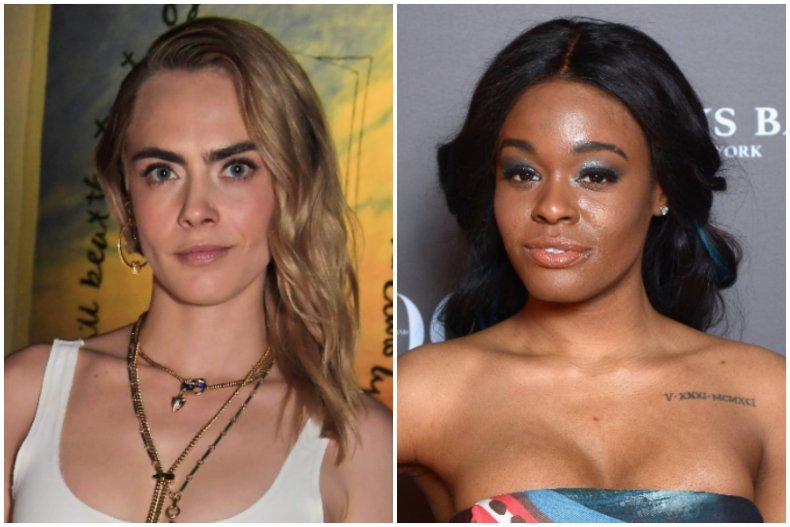 The clip appeared to be have been shared in reaction to footage from Sunday's Billboard Music Awards, where Delevingne was caught on camera crashing Megan Thee Stallion's big arrival at the star-studded event.
As Megan, full name Megan Jovon Ruth Pete, posed on the expansive carpet in her midriff-baring ensemble, Delevingne was seen peeping at the star and shouting encouragement from behind the step and repeat banner.
In different clips shared on TikTok and Instagram, London-born Delevingne then placed her bag and small water bottle on the ground so that she could step out onto the carpet and attempt to improve on Megan's photos by lifting her train.
As Megan looked on, Delevingne threw Megan's floor-length train into the air, in an apparent attempt to give the musician's images a more dramatic flair. Delevingne then held onto the train for several seconds before throwing it up again.
While Megan initially appeared confused by the model's gestures—which came after handlers had adjusted her ensemble for the cameras—she was eventually seen laughing as Delevingne threw her train up for a second time.
With the video footage having gone viral on social media—as many fans expressed their confusion over what they had just watched—online discussion turned to Delevingne's other memorable moments.
As such, the video clip from her Halloween party antics alongside Banks resurfaced on Twitter, as one user sarcastically enquired if it would be possible to "ban" Delevingne from Hollywood. The video has been viewed more than 4 million times.
At the time of the Halloween party, Page Six shared footage of Delevingne appearing to stumble on the edge of the stage as Banks performed another of her tracks. Delevingne was aided to safety by a security guard.
Banks hugged Delevingne at the end of her performance, according to Page Six.
Following the Billboard Music Awards, video footage was also recirculated of Delevingne and Megan at Cardi B's Met Gala afterparty earlier this month in New York City.
In the clip, the stars were seen hitting the dancefloor together, before Delevingne got closer to seemingly say something to the rapper, prompting Megan to hold her back.
Despite the online ribbing from fans, it would appear that Delevingne and Megan are friendly, as they arrived at the Billboard Music Awards together and were shown seated next to one another at the Las Vegas show.