Video: Carlos Vela Scores Wonder Goal for Los Angeles FC in 4-0 Rout of San Jose Earthquakes
Carlos Vela stole the show as Los Angeles FC thrashed the San Jose Earthquakes 4-0 on Thursday night.
The Mexican scored twice in the first half to give his side a three-goal lead at halftime after Diego Rossi had opened the scoring.
Vela's first came from the penalty spot, but his second was a contender for goal of the season in the MLS.
The LAFC captain dummied to allow the ball through to Rossi, who then played it into his path after Vela skipped past a defender.
Having evaded a tackle to get into the penalty box, Vela then nutmegged San Jose's defender Florian Jungwirth on the penalty spot.
The Mexican then produced another outrageous piece of skill, opening his body as if to shoot into the far corner, only to feint to his right and sending Earthquakes goalkeeper Daniel Vega the wrong way.
Vela waltzed around Vega, before stopping to elude a desperate tackle from Nick Lima, whose momentum carried him sliding into the net.
With San Jose's defense crumpled like a piece of paper, Vela took a step to his left before nonchalantly poking the ball into the net.
The goal took the Mexican's tally for the season to 26 and LAFC coach Bob Bradley admitted it was probably the pick of the crop.
"One really special goal," Bradley told the Los Angeles Times. "We all want to see moments like that. You come to the game tonight and you see that goal, that's something that stays with you. Carlos is capable of doing that kind of stuff."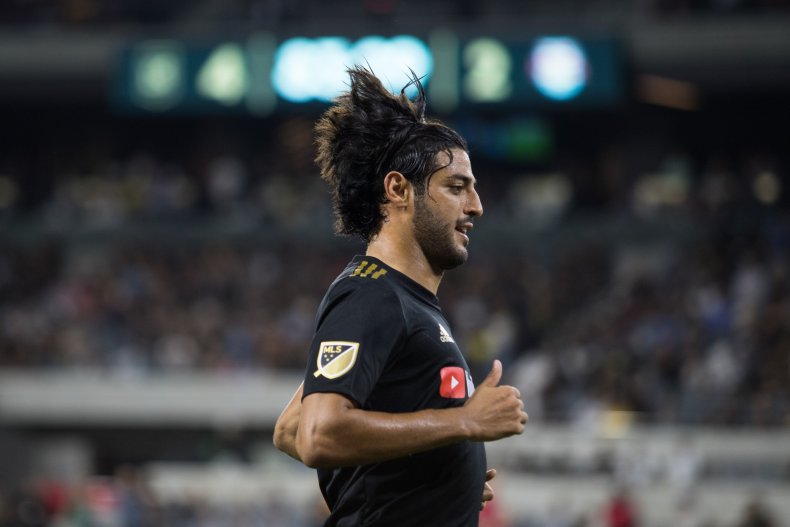 After Vela's exploit, LAFC added a fourth goal in the second half, courtesy of Joshua Perez, who opened his MLS account.
The win strengthened LAFC's grip on first place in the Western Conference.
The Black and Gold have a 19-point lead over second-placed Minnesota United and could secure the Western Conference title and the MLS Supporters' Shield before Labor Day.
LAFC is on a five-game winning run and has already clinched a playoff berth, but Bradley suggested his side did not feel like it had accomplished anything yet.
"There's no such thing as taking your foot off the gas," he explained. "You want to win every game. You want to be a better team. You want to play great football for 90 minutes. Nobody says, 'Oh, we made the playoffs. Now we can just rest.'"
The Western Conference leaders take on the Los Angeles Galaxy in the second installment of the Los Angeles derby on Sunday night.