Parents of a 3-year-old boy rushed to his preschool when they allegedly saw teachers abusing children on a live video feed.
News outlet 11alive.com reported that Gloria Barghi, the mother of the 3-year-old at Parker-Chase Preschool in Roswell, Georgia, told her husband, Brant Duncan, that she had a "weird feeling" and resorted to "mother's intuition" to pick up her phone and open the school's app on her phone on June 2.
That was when she reportedly witnessed an allegedly abusive teacher on the live camera provided by the school, headquartered in Alpharetta on Holcomb Bridge Road.
The parents then immediately rushed to the school to pick up their son and demand video footage of the alleged abuse.
"It was intentional. It was thought out. It was malicious," Barghi told 11alive. "These are defenseless little kids."
The video led to officers of the Roswell Police Department arresting 40-year-old Zeina Alostwani and 19-year-old Soriana Briceno, both of Roswell, on June 6. They were both charged with first-degree cruelty to children.
They are currently being held in Fulton County Jail.
'Concerning Physical Contact'
Video evidence showed a classroom with multiple 2- and 3-year-old children, along with Alostwani and Briceno, sitting and kneeling on the floor.
As one teacher kneels near the children, the other can be seen stepping on a child's hand for multiple seconds while the hand is palm-down on the surface. That same teacher is seen using her leg and/or shin to contact the child in the back prior to walking away and off camera.
Then, the video reveals the other kneeling teacher pushing a child's forehead with what looks like a finger.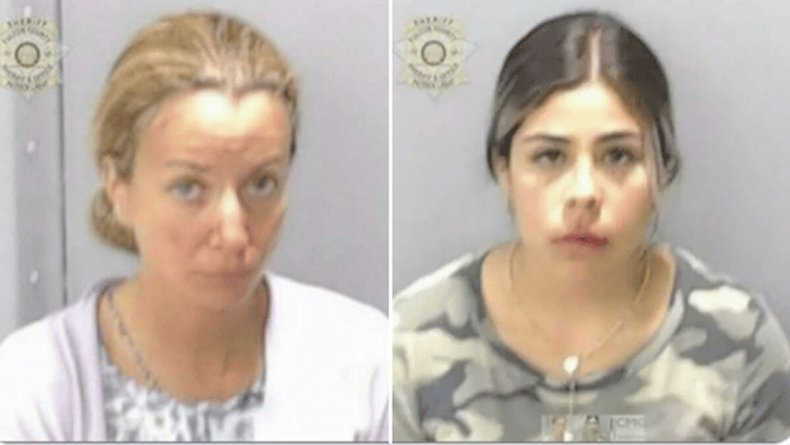 In a Facebook post, Roswell Police said they are using the aforementioned video footage as part of an investigation into the teachers' actions.
Authorities said they were notified of the incident by Barghi, who relayed to police that she had opened the app and saw "concerning physical contact between Alostwani and Briceno against several children in the classroom."
Newsweek reached out to Roswell Police for comment.
Reg Griffin, chief communications officer for the Georgia Department of Early Care and Learning (DECAL), told Newsweek that DECAL is conducting its own investigation of the alleged abuse in cohesion with Roswell Police.
"Immediately after the arrests, the two employees were made (or deemed) unsatisfactory to be present in a child care facility while children are present for care in accordance with Georgia's background check laws," Griffin said.
DECAL administers Georgia's pre-K program, licenses child care centers and home-based child care, and administers Georgia's Childcare and Parent Services (CAPS) Program and federal nutrition programs, etc.
Parents Feel 'Guilt'
Barghi and Duncan had reportedly noticed changes in behavior in their son since he began attending Parker-Chase about nine months ago, reported 11alive.com, causing the pair to wonder if similar nefarious incidents have occurred in the past regarding the same teachers or other personnel.
Both expressed "guilt" for putting their son in that situation.
"I think back now to the things he's told me," Barghi said. "I think my son was trying to tell me all along, he's expressed not liking the teachers, not wanting to go to school, crying to go to school. And of course, he has some behaviors now, after talking to professionals, that we do need to get him evaluated and make sure that the children are all OK."
"We took our child and we handed them to these monsters because we trusted in the school; we trusted in their staff to protect and watch over our children," Duncan said. "And they're evil. They're evil."
Newsweek reached out to Gloria Barghi for comment.
Endeavor Schools owns Parker-Chase and dozens of other preschools, Montessori schools and K-12 schools in 13 states across the country.
An Endeavor spokesperson provided Newsweek with a statement, which said officials are "shocked and disappointed" regarding the teachers' "inappropriate disciplinary actions." The teachers were "immediately removed and dismissed" from their positions.
The case has also been reported to Endeavor's licensing agency and Children's Protective Services.
"While we are extremely grateful that the children are well, we take this matter seriously and our investigation is ongoing," the statement read. "We expect our staff to adhere to the highest standards of care, and any failure to do so will not be tolerated."
The American Society for the Positive Care of Children, a national nonprofit organization that works to reduce child maltreatment and raise awareness, reported that 3.9 million child maltreatment referral reports were received in 2020 involving approximately 7.1 million children.
Of those millions of reported victims, 90.6 percent of victims were abused by one or both parents while just 3.1 million children received prevention and post-response services. An estimated 55 children die daily from child abuse.
Some stories of child abuse end positively, such as when a diner waitress helped save one boy's life. Others often do not, as a former soldier was arrested recently after his son's body was found in a river.
Roswell Police request anyone with additional information to call 770-640-4100. Anonymous information can be provided through Crime Stoppers Atlanta at 404-577-TIPS (8477) or online at www.StopCrimeATL.org.