Video: Catholic Priest Caught Violently Slapping Baby During Baptism to Stop It Crying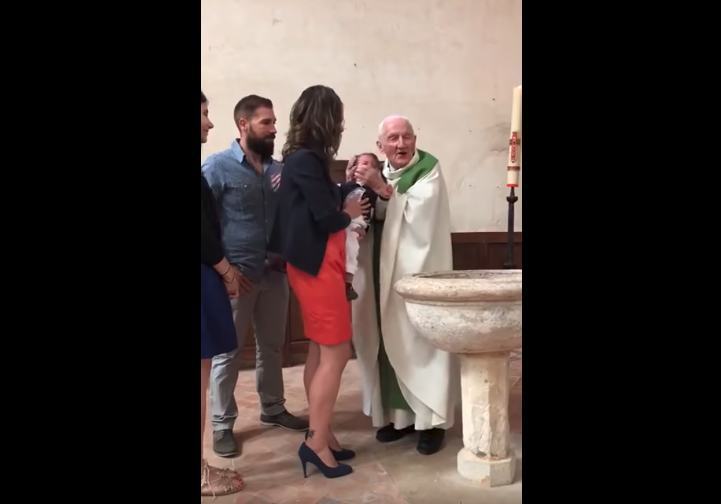 A family were forced to wrestle their baby away from a French priest who was baptising him, after the clergyman lost his temper and violently smacked the boy across the face.
In a video of the incident, the Catholic priest can be seen blessing the boy while making the sign of the cross with his hand over the child's body. The baby then begins to cry loudly, disrupting the ceremony.
The priest, speaking in French, can be heard saying the boy is having a "tantrum" and he needs water poured on his head to become a "little Christian." He then mutters "calm down, calm down, you must calm down" while visibly bristling with frustration. Suddenly, he snaps and strikes the child across the face.
The person who was filming the baptism can be heard gasping. The priest, reluctant to let go, can then be seen grabbing the baby's neck and body before putting his face and hand over the boy's face to muffle his cries.
The child's parents, who were standing next to the priest, attempted to wrestle the child away from the clergyman as an onlooker says, "he's afraid." The child's father pulls his son away from the priest before the video cuts out.
It is unclear where the clip was filmed. None of the people in the footage have been identified.
The clip was posted to YouTube by a user called "Internet Drawer" on Wednesday. It has since attracted over 56,000 views and several hundred comments. Viewers criticized the priest in the comments section of the video, while some blamed the parents for not intervening sooner.
Jakeelin Bustos wrote: "Why did the mother not move her child away instead of just letting the priest keep on hurting him. You can clearly see the child is aggravated."
Another said: "He's an old man, so maybe he's got dementia and isn't all there. I think he recognized what he did was wrong, and tried to cover for it when he attempted to then hug the kid again. But it's time to retire this old fool. He's done enormous damage to the standing of the Church worldwide by his actions. I hope that this doesn't stop some parents from having their children baptized, though I understand why it would."
Watch the video below: