Video: CNN Host Lemon Dons Winter Hat to Roast Donald Trump's Global Warming Tweet
Climate experts and news networks continue to weigh in on President Donald Trump's answer to the issue of the polar vortex gripping much of the U.S. Midwest.
With record low temperatures sweeping parts of the country, Trump tweeted: "What the hell is going on with Global Warming? Please come back fast, we need you!"
Trump appeared to draw justification from the cold snap for his repeated dismissal of climate change science. Last year, his administration withdrew from the Paris Agreement. He has also dubbed global warming a "hoax."
But CNN hosts Don Lemon and Chris Cuomo mocked Trump's understanding of climate. "Climate change hasn't gone anywhere. Weather and climate…you have to separate those a little bit in the analysis," Cuomo said.
The host added that Trump was later corrected by the National Oceanographic and Atmospheric Administration (NOAA) which tweeted: "Winter storms don't prove that global warming isn't happening."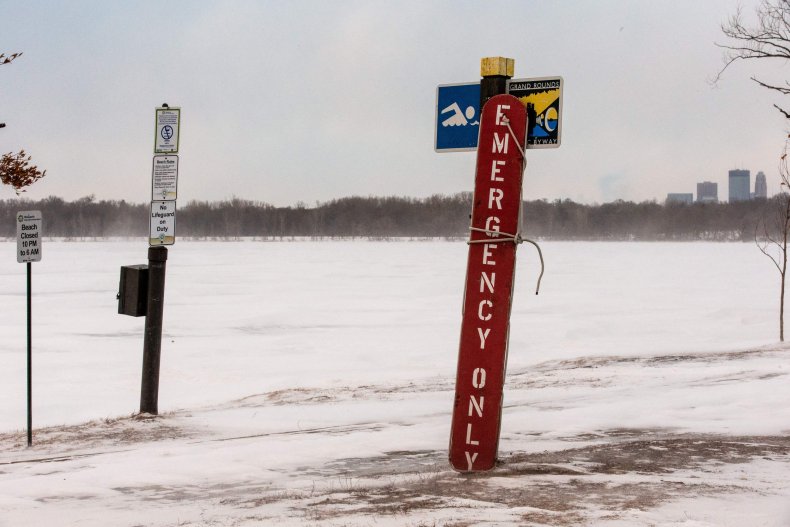 NOAA tweeted an article from 2015 stating that warmer ocean temperatures may make the air above it warmer and moister and more prone to be brought into the storm system, producing large amounts of snow.
On Cuomo Primetime, Cuomo burst out laughing when he saw presenter Don Lemon dressed in a winter hat and holding a cup of what appeared to be cocoa, while shivering. "You should have been dressed in like shorts and like Bermudas and gone, 'It's still global warming, it's still too hot,'" Cuomo said.
Lemon went on to read out a statement that showed that the U.S. intelligence community contradicted Trump's claims by describing potential security challenges posed by climate change.
These included "threats to public health, historic levels of human displacement, assault on religious freedom, and the negative effects of the environment of environmental degradation," Mediaite reported.
"I don't think he understands it, maybe he just doesn't understand the science, he doesn't want to believe in it," Lemon said.
Trump has repeatedly denied climate science by citing cold temperatures to question global warming. A United Nations report released last October warned that the world has only 12 years to limit the rise in global temperatures to 1.5 degrees Celsius above pre-industrial levels.
Trump has made it clear that energy production, particularly coal and oil drilling, is the top priority of the federal agencies he oversees.
Video: CNN Host Lemon Dons Winter Hat to Roast Donald Trump's Global Warming Tweet | U.S.