Video of Costco Employee Taking Customer's Cart for Refusing to Wear Mask Goes Viral
Retail outlet chain Costco trended on Twitter after a video capturing an employee taking away a customer's cart and asking him to leave over his refusal to wear a mask amid the coronavirus pandemic went viral.
The clip starts with the customer filming the employee and threatening to post the footage on his Instagram page.
"Hi everyone! I work for Costco and I'm asking this member to put on a mask because that is our company policy," the employee, identified by his badge as Tison, said to the camera in response.
"And I'm not doing it 'cause I woke up in a free country," the customer responded, flipping the camera to show his uncovered face.
Tison is then seen taking the customer's cart away, telling him: "Have a nice day. You are no longer welcome here in our warehouse. You need to leave."
The video was shared on Twitter by a user purporting to be a Costco employee in Las Vegas last week, who said it had occurred at a branch in Colorado.
It started circulating widely on Tuesday after it was shared by journalist Elon James White, and has now been viewed more than four million times.
"Slow. Effing. Clap. I'm signing up for a #Costco membership. That's how you do it," White wrote alongside the video.
California Rep. Ted Lieu was also among those who praised Costco on Twitter, writing: "#CostCo has the right to require that customers wear a mask. Businesses have the right to prevent people from spewing saliva droplets in their stores.
"Because we live in a free country. And because there's a frickin' life-threatening virus that's spread through saliva droplets."
Singer Natalie Gelman also shared the clip, writing: "Yep. I'm so tired of seeing people disrespect employees and other customers by not wearing a mask. Thank you #Costco."
Actress Devanny Pinn added: "Signing up at #Costco, because that's where badasses work. #iStandWithTison."
Florida state senator Annette Taddeo shared the clip, writing alongside it: "I'm a longtime proud #Costco member!!!!"
A Twitter user who identified himself as Tison thanked people for the outpouring of support. "People of Twitter thank you for all of the support," he wrote. "I was just trying to protect our employees and our members."
The video comes days after an incident at a branch of Gelson's Markets in Dana Point, California in which a customer was barred from entering a store because she refused to wear a mask, went viral.
"Karen gets upset that a store won't let her shop without a protective facemask. She then tried to pretend like she's the victim, despite the store giving her options. This is pure arrogance," Khary Penebaker tweeted about that incident last week.
Costco implemented a policy requiring all workers and customers to wear masks or face coverings earlier this month.
"To protect our members and employees, effective May 4, all Costco members and guests must wear a face covering that covers their mouth and nose at all times while at Costco," the company said on its website.
The requirement does not apply to children under the age of two or to those who are unable to wear a face covering due to a medical condition, Costco added.
"The use of a face covering should not be seen as a substitute for social distancing. Please continue to observe rules regarding appropriate distancing while on Costco premises. Thank you for your understanding and cooperation," the company added.
Costco has been contacted for additional comment.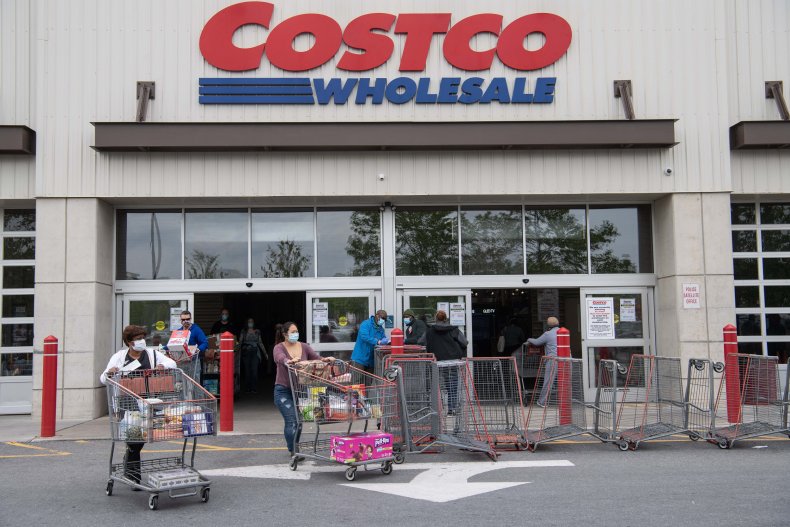 Correction 5/20/20 9:38 a.m. ET: This article was updated to say that the second incident occurred at Gelson's Markets, not Costco as originally stated.