Video Shows Cruise Ship Passenger Crash Onto Deck in Bungee Trampoline Mishap: 'All I Really Remember Is the Hit and the Fear'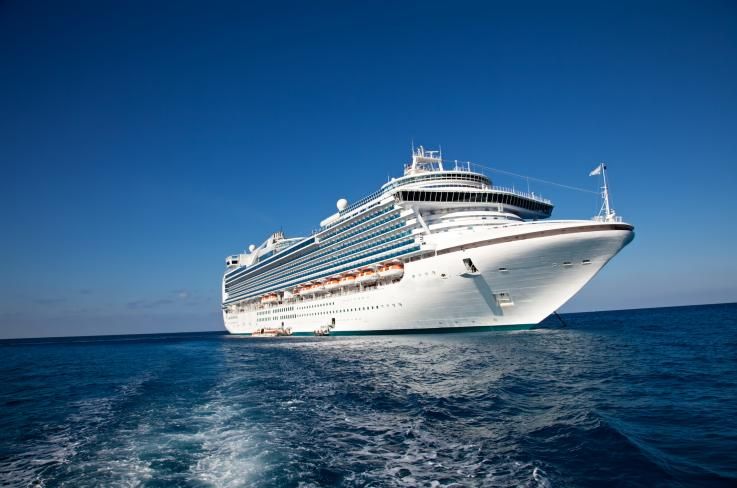 A man is suing Royal Caribbean for $10 million after he fell from a bungee trampoline on a vessel, breaking his pelvis and dislocating his shoulder.
Casey Holladay​, 25, was bouncing on the Sky Pad bungee trampoline onboard the Mariner of the Seas ship in February, when the elasticated chords securing him to the attraction snapped, NBC Miami reported.
The holidaymaker fell from the air, crashing onto the ship's deck as it headed to the Bahamas. Royal Caribbean cut the cruise short, and Holladay​ was taken to Jackson Memorial Hospital in Miami,
Footage of the incident shot by Holladay's girlfriend shows him bouncing feet into the air inside the orange, orb-like structure. Suddenly, the elasticated tethers snap and a scream is heard as he plummets to the ground. Someone asks Holladay if he's OK, to which he appears to reply, "No, I'm not OK."
"I just felt the momentum release from my body, that I wasn't being held by anything anymore. And when I hit, all I really remember was the hit and the noise and then the fear," Holladay told NBC Miami.
Holladay said the incident changed his life "in the blink of an eye." The 25-year-old dislocated his shoulder, and underwent surgery to fix his broken pelvis. Now he must use a walker and wheelchair as he starts his journey to recovery which is expected to take months, according to NBC Miami.
Royal Caribbean fitted the Sky Pad on the Mariner of the Seas last year, as part of a $100 million renovation of the 2003 vessel, The Miami Herald reported at the time.
In his federal lawsuit, Holladay argues Royal Caribbean staff are not properly qualified to operate thrill attractions, NBC Miami reported. He also claimed staff did not warn him about the potential dangers of the ride. Holladay is asking for $10 million.
His lawyer Brett Rivkind told NBC Miami that such attractions are designed to be operated on land by amusement park operators. He argued Royal Caribbean staff "really do not have the experience to do a proper analysis of the safety risks of putting these types of activities on a cruise ship."
Rivkind told The Miami Herald: "He's severely limited in his everyday activities."
Holladay also complained that staff on the ship tried to prevent his friend from filming him lying on the deck.
Royal Caribbean told Newsweek: "We operate all our ships safely, professionally and responsibly. We do not comment on pending litigation."
Video Shows Cruise Ship Passenger Crash Onto Deck in Bungee Trampoline Mishap: 'All I Really Remember Is the Hit and the Fear' | U.S.