Video: Cruise Ship Passenger, Who May Have Jumped Overboard on Purpose, Rescued After 45-minute Operation
Video footage shared on social media shows the moment a young man apparently jumped overboard from a cruise ship he was travelling on not far from the Puerto Rican capital San Juan.
A clip, posted on Facebook, has shown a segment of what has been described as a 45-minute rescue operation to retrieve the 19-year-old man after he may have purposely thrown himself from the deck of the Carnival Fascination cruise ship on Sunday.
In the footage, which appears to have been captured by cruise ship passengers, the man can be seen struggling against the waves and attempting to swim back to the ship. Shouts can be heard in the video, though it is not clear whether these were made by the man in distress or another individual off camera.
As the young man becomes just a tiny speck in the wider ocean a voice can be heard over a cruise ship public address system promising updates on the situation.
In the video, the individual filming the incident runs across the deck to a windowed area and an orange rescue vessel passes into shot. "Did they get him?" one passenger asks in English off camera. "He's in trouble," another voice posits before the small gathering of onlookers erupts in cheers as the man is rescued.
Connie Schrock, Professor of Mathematics at Emporia State University, tweeted a picture of the moment the man was plucked from the ocean by his rescuers. "Today at sea—man overboard—something you never want to hear on cruise. A rescue followed, thankfully. This picture I took from my balcony," she wrote in a caption accompanying the image.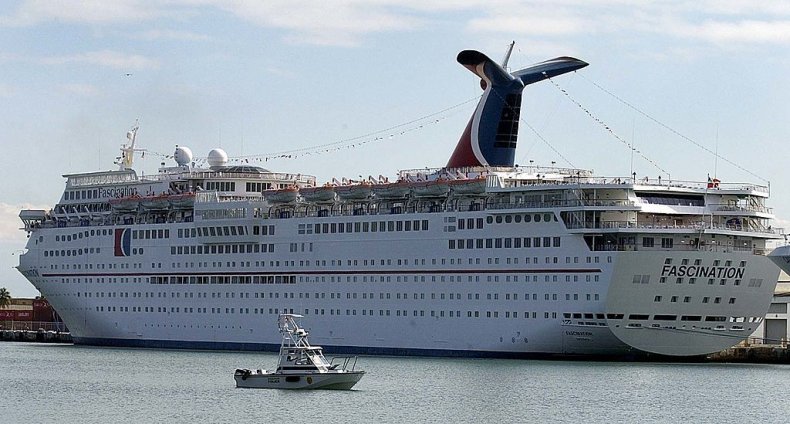 Video of the rescue was shared by the Facebook group Cruceros Puerto Rico, which documents the goings-on and misadventures of cruise ship passengers docking on the Carribean island. The story was initially reported by the cruise ship blog Cruise Hive.
The Carnival Fascination cruise ship, launched in 1994 and part of the Carnival Fascination Line, called in San Juan, on May 19, as part of a 7-day southern Caribbean cruise. The vacation vessel berths out of both Puerto Rico and Barbados and can carry a maximum of 2,000 guests.
If you have thoughts of suicide, confidential help is available for free at the National Suicide Prevention Lifeline. Call 1-800-273-8255. The line is available 24 hours every day.