Video Dating During the Pandemic Leads to Rise in Video Hookups With Strangers
It's safe to say that many aspects of our everyday lives have changed during the coronavirus pandemic, and that includes dating. However, while some of the changes that we have made to survive the pandemic without going stir crazy might go the way of unsliced bread in a post-vaccine America, some of these changes in the dating world may be here to stay. A new survey about sex and dating during the pandemic has revealed that a shocking number of people were interested in doing virtual dates after things go back to normal (whatever that means).
The study was conducted in October 2020 by Basic Hard Seltzer who asked 2,000 unmarried millennials (average age 29) and Gen-Zers about their dating lives. And who better to ask than a hard seltzer brand, the beverage most likely at the elbow of every nervous video dater?
Almost half of the folks who participated in the survey said that they have continued dating in-person since the pandemic started. Only 22 percent were focused on virtual dates alone, and 33 percent were doing both.
Perhaps the most shocking data to come out of this survey was how the participants felt about virtual dating. Though not ideal, 55 percent of people tried it out, and were pleasantly surprised at how much they enjoyed it. According to the survey, of those who tried dating via video chat, 72 percent felt they got a good sense of chemistry online, and 63 percent of people would keep up virtual dating in a post-pandemic world.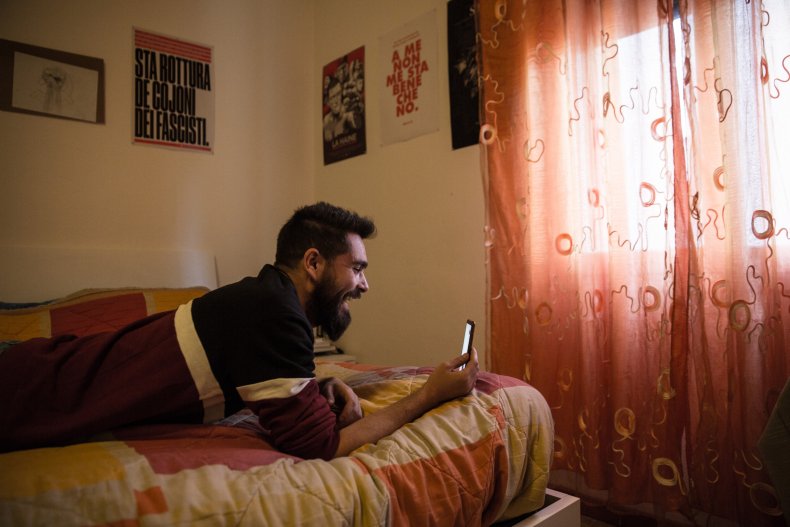 However, dating virtually doesn't magically erase some of the common issues that crop up. Of the folks that tried video chat dates, 56 percent mentioned that they had been stood up. (This writer would like to know where these people have to hide if everyone is sheltering in place.)
Like pandemic-era dating, intimacy also looked different for single people. About half of the participants said they had been less sexually active than in the "before times," and 19 percent of people said that their sex life stayed about the same.
The data concluded that more than half the people (58 percent) who had been sexually active during the pandemic had participated in virtual sex at some point. Three-quarters of the people who had virtual sex admitted it was their first time doing it.
Another shocking revelation found in the data was that 77 percent of the participants who hooked up virtually did so with someone they hadn't hooked up with in person yet. Most of the people who hooked up virtually (94 percent) said they enjoyed it.
Something else that folks discovered while dating during the pandemic? Less game playing. Over three-quarters (79 percent) reported that others are more straightforward and less likely to waste time in the dating game with all of this *gestures vaguely* going on. Maybe the pandemic has its silver lining after all?