Video: Del Mar Racetrack Shooting Ahead of Ice Cube Concert Latest
A California man has opened fire at the Del Mar Fairgrounds after reportedly being denied a ticket to an Ice Cube concert.
On the day before the end of the 2018 racing season, the man broke into argument with a vendor at the Del Mar Thoroughbred Club. This drew the attention of nearby sheriff's deputies patrolling the area. The man proceeded to pull out a semi-automatic handgun and start firing rounds into the crowd.
Warning, graphic content:
According to NBC 7 San Diego, the deputies responded and returned fire at the gunman—who was hit several times in the arm and chest. Witnesses then recorded footage of the police officers seemingly trying to resuscitate the shooter. They can be seen performing chest compressions.
No one was shot or hurt in the incident, except for the gunman. He was taken to Scripps Memorial Hospital la Jolla. His current condition is not known. San Diego County Sheriff's Department did not immediately respond to a request for comment.
The official Del Mar Racetrack Twitter account said that the "situation had been contained" a short while later. Ice Cube's concert went ahead as scheduled. In a statement on the Del Mar website, officials confirmed the final day of racing would not be affected.
"As is our special events protocol, substantial law enforcement and private security was on site in anticipation of the event. In light of the circumstances that unfolded involving one individual with a gun, we take consolation in the fact that no patrons, officers or security personnel were injured in the incident. We also are thankful for the work and training our personnel have done with the Sheriff's Department regarding possible active shooter incidents."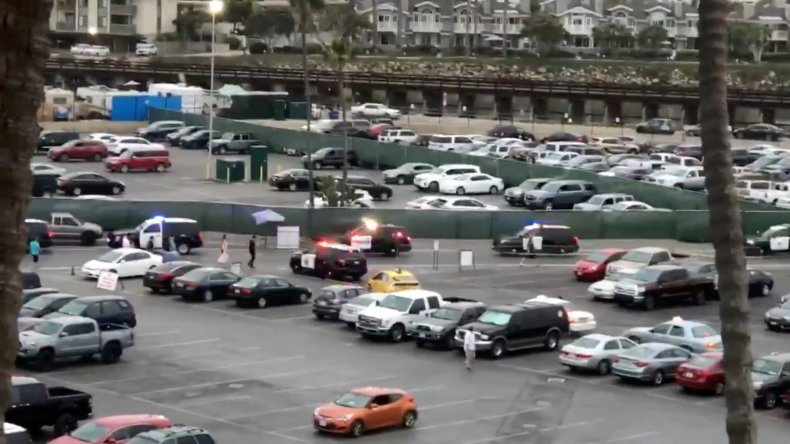 Several different video angles of the shooting have emerged on social media. Announcers calling the race at the time can be heard on TVG saying: "There's gunfire at the track, there's gunfire at the track, there is gunfire at the…" The transmission was then cut.
The shooting took place at around 6:30 p.m. on Sunday night. The situation was contained by 7:20 p.m., according to Del Mar Racetrack.
Any who could not secure tickets to the Ice Cube concert were free to watch the show on televisions placed around the track. According to the Los Angeles Times, the crowds were almost as numerous as the opening day high of 33,112 people.