Video of Officers Trying to Save Dog in Burning SUV Viewed Over 330K Times
A sheriff's deputy in Colorado is being hailed as a hero after a video of him saving a dog from a burning vehicle went viral.
The body-cam footage was posted to Facebook on Thursday, showing the point of view of Douglas County Sheriff's Deputy Michael Gregorek arriving at the scene after receiving a call about a vehicle fire. As the clip starts, the deputy begins knocking out windows on the car with a baton and checking inside with a flashlight.
Eventually, after breaking open the back windshield, the owner is able to get their trapped dog, named Hank, to the window, but is seemingly unable to get it out due to the intense smoke pouring out. From there, the deputy reaches in and begins to pull the animal out of the trunk.
Once this was accomplished, he ran the dog to a nearby snow pile to cool off. The incident took place on January 22, according to the sheriff's department.
"The video speaks for itself," the department wrote in the Facebook post sharing the footage. "What a phenomenal ending to a scary situation for all."
As of Sunday afternoon, the video had received over 330,000 views on Facebook, while also generating 7,300 reactions and over 850 comments.
"My thought at that point was, 'He's coming out with me regardless of whatever else might be happening,'" Gregorek said about the saving the dog, according to the New York Post.
Gregorek, a dog owner himself, explained that initially thought that someone was tossing Molotov cocktails at the vehicle after witnessing the owner throwing things at the back window. He quickly realized what was actually happening once the owner shouted, "My dog's in the car."
"It flipped [the] switch from 'It's obviously not a crime' to 'Now we have a life,'" Gregorek continued. "Hank comes to the back window, he's salivating, you can tell that he's in distress. [The] owner was trying to pull him out, not successfully...That's his baby, I'm not going to get in his way while he's trying to rescue his baby but the second he opens up an opening for me I just went in there and grabbed on and his body had already started to tense up, so I knew he was really in a bad way."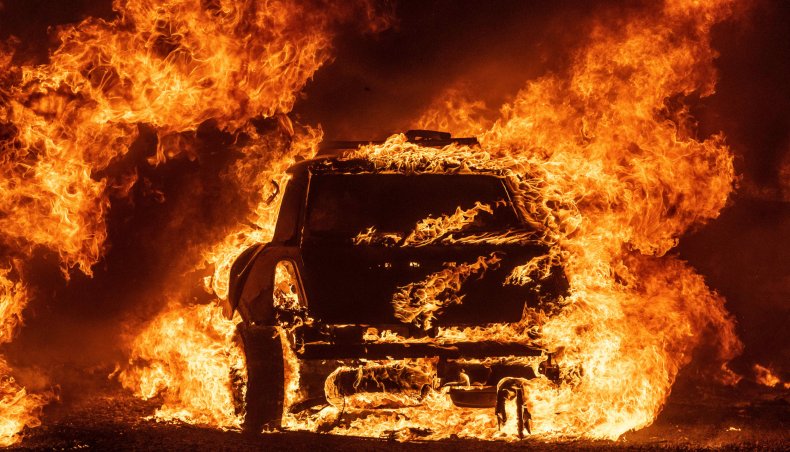 One of the neighbors who witnessed the scene said that his wife was a veterinarian and called her to check on the rescued dog. According to Gregorek, Hank did not need much attention, as he was up, running around, and ready to play by the time she arrived.
"Wow, what a wonderful happy ending!" one of the top comments on the Facebook posts read. "Great job, Deputy! You brought tears to every dog lovers eyes with this rescue!"