DHS Chief Hits Back at Democrat's 'Appalling Accusation' That Migrant Child Deaths Are Intentional
A tense exchange on the situation at the U.S.-Mexico border unfolded Wednesday as Representative Lauren Underwood seemed accused Acting Homeland Security Secretary Kevin McAleenan of enforcing "cruel and inhumane" policies resulting in the intentional deaths of migrant children.
"On Monday, we learned that a fifth migrant child died in custody since family separation began. These stories are appalling, and yet they keep happening," Underwood said during a House Homeland Security Committee hearing on President Donald Trump's 2020 budget request for the Department of Homeland Security.
Late on Wednesday, it emerged that a sixth migrant child, a 10-year-old girl, had died while in the care of federal authorities in September.
"Now, Congress just provided half a billion dollars in February to address the humanitarian crisis at the border and will soon provide more," Underwood said. "Why do these tragedies keep happening?"
"They're happening because the crisis is exceeding the resources provided," McAleenan responded. "That's why we've asked for more and we've asked for more authority to deal with it to prevent this crisis from happening in the first place and from the children being put at risk."
"Right, but people keep dying, sir," Underwood interjected as McAleenan explained how DHS had so far deployed funding from fiscal year 2019.
"People keep dying, and so this is obviously more than a question of resources. Congress has been more than willing to provide the resources and work with you to address the security and humanitarian concerns, but at this point with five kids [now, six] that have died, 5,000 separated from their families, I feel like the evidence is really clear that this is intentional," Underwood said. "It's intentional. It's a policy choice being made by this administration and it's cruel and inhumane."
"That's an appalling accusation," McAleenan shot back, before placing blame on Congress members' shoulders.
"Our men and women fight hard to protect people in our custody every single day," he said. "We've asked for these resources...weeks ago. It hasn't been responded to by Congress, and we've asked for changes in authorities for the last three years that would have prevented this from happening."
Asked to clarify her statement, Underwood said: "I said that this is more than a question of resources. Congress has been more than willing to provide resources and to work with you, Mr. Secretary, to address the security and humanitarian concerns, and at this point, with five children dead and 5,000 separated from their families, this is intentional. It's a policy choice being made on purpose by this administration, and it's cruel and inhumane."
In addition to facing blowback from McAleenan, Underwood also faced the ire of Representative Mike Rogers, a Michigan Republican, who asked that her comments be stricken.
"Mr. Chairman, you cannot impugn the character of the witness by stating that he intentionally murders children," Rogers said, addressing Representative Bennie Thompson, a Mississippi Democrat and the committee chairman. "That is completely inappropriate, and her words should be taken down. She was very explicit."
The two representatives then debated Underwood's choice of words, with the Democrat asserting: "I did not say 'murder.' I said that five children have died as a result of a policy choice."
"You said it was 'intentional.' That is murder," Rogers said.
Referring to McAleenan, Underwood expanded: "He has said that he stands by the policy decisions of this administration. That's what he said at the beginning of his testimony. And he says he stands by the budget request. This is a policy choice."
Thompson initially refused to call for a vote to strike Underwood's words but later approved a request to vote on the matter, which saw nine members vote in favor of striking Underwood's words, while seven voted against the move.
"The words will be taken down," Thompson said.
Since the hearing, immigration advocates have accused Rogers and other representatives of censorship, with Families Belong Together slamming the vote as a means of attempting to silence Underwood on the topic.
"Yesterday's GOP-led vote to strike Rep. Underwood's words from the record was a cynical attempt to silence her and hide the truth," said: Jess Morales Rocketto, chair of Families Belong Together.
"So let's set the record straight: Rep. Underwood is right. The administration's inhumane and dangerous migration policy was intentionally created to cause damage in a futile effort to dissuade migration. The approach ignores basic humanity: People will run from abject poverty, drought, and violence–period," Morales Rocketto said.
"You don't put your child on a raft or undergo a dangerous journey unless you are running for your life. And instead of being met with compassion, the administration intentionally put policies into place that are the extension of their racist, dehumanizing rhetoric," she said. "Now, six children are dead, and the GOP would rather silence Rep. Underwood than take responsibility for the blood on their hands."
On Monday, Carlos Gregorio Hernandez Vasquez, a 16-year-old from Guatemala, became the fifth child to die in the custody of U.S. immigration officials in the span of six months, after showing signs of the flu.
Last week, a 2½-year-old child also died while in federal custody after he was hospitalized for pneumonia.
These deaths followed the December deaths of Jakelin Caal Maquín, 7, who died of a bacterial infection, and Felipe Gomez Alonzo, 8, who died from infection and complications from the flu, while in Customs and Border Protection custody.
Most of the five children had journeyed to the U.S. border from Guatemala, where families have fled violence, poverty and food insecurity caused by drought. The child who died in September came from El Salvador.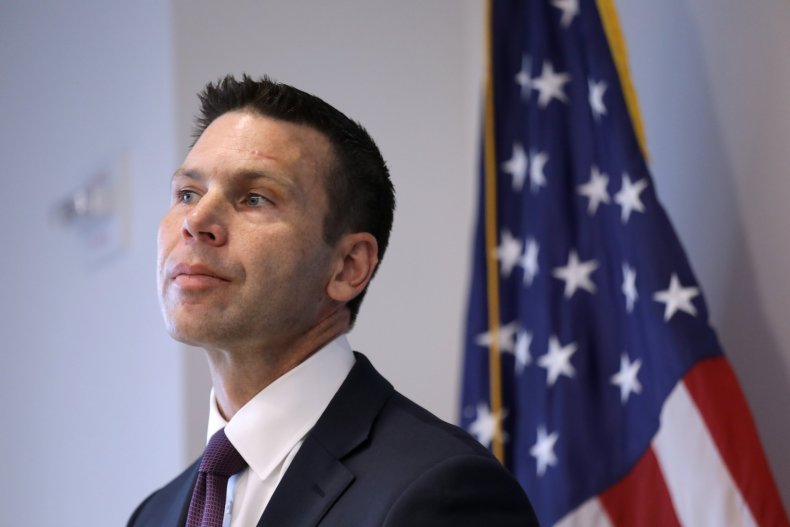 This article has been updated with a statement from Jess Morales Rocketto, chair of Families Belong Together.