Shame: DHS Chief Nielsen Hounded From Mexican Restaurant Over Border Policy
Homeland Security Secretary Kirstjen Nielsen was driven out of a Mexican restaurant by protesters who said they would not "let her dine in peace," as part of a backlash over the Trump administration's policy of separating children form their parents at the U.S. southern border.
Nielsen was eating at the MXDC Cocina Mexicana Restaurant in Washington, D.C. on Tuesday, CNN reported, when she was heckled by protesters, who booed her and shouted "Abolish ICE" and chanted "shame" as she attempted to eat.
Indeed, the group protesting her presence at the restaurant, the Democratic Socialists of America, suggested the politician "should never be allowed to eat and drink in public again" as punishment for the border policy that has caused a furore in recent weeks, Mediaite reported.
Announced last month by Attorney General Jeff Sessions, the policy sees families found to be crossing into the U.S. illegally separated, with parents taken to federal jail and their children taken into the custody of the U.S. Department of Health and Human Services.
"We will not stand by and let Secretary Nielsen dine in peace, while she is directing her employees to tear little girls away from their mothers and crying boys away from their fathers at our border," the DSA said in a statement shared on their Facebook page following the incident.
"Secretary Nielsen and everyone else who has carried out these brutal and cold-blooded orders to rip apart families should never be allowed to eat and drink in public again. These barbarous acts must end and those at the helm must be held accountable. While Secretary Nielsen's dinner may have been ruined, it is nothing compared to the horrors she has inflicted on innocent families," the statement added.
The group also commented: "The irony isn't lost on us that this is a Mexican restaurant."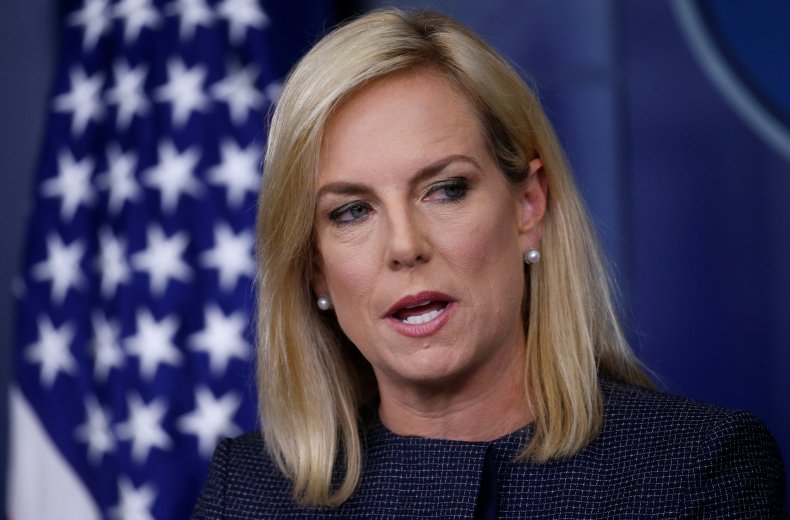 The protest follows Nielsen's defence of the controversial border policy in a Monday appearance at a White House press briefing, in which she suggested she did not invent a policy that intentionally separated parents and children.
Despite some members of the press commenting that Nielsen did not answer their questions about the separation of families, she was later praised in a tweet by President Donald Trump.